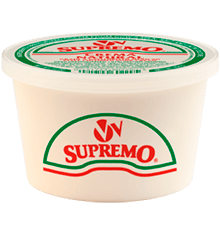 Crema Natural
Mexican Sour Cream
from V&V SUPREMO®
QUALITY ATTRIBUTES:
Made with 100% pasteurized whole cow milk, grade "A"
rBGH artificial hormone-free
Conservative-free
Stabilizer-free
Gelatin-free
Emulsifier-free
Does not curdle when heated
Made in small artisanal batches
FLAVOR PROFILE:
Distinctive lactose product of high quality in flavor and aroma. Slightly tangy by an elaborate and traditional natural cultivation process.
BODY AND TEXTURE:
Smooth, silky, with an exquisite aroma, ready to serve.
RECOMMENDED USES:
Traditional garnish for tacos, sopes, and enchiladas. Perfect enhancer for soups, salsas, and baked potatoes. Delicious in desserts and salads. Goes well with any recipe. 
BACKGROUND:
For decades, traditional Mexican cream has been crafted as a naturally cultivated artisanal product, easy to pour and slightly tangy. It serves as a perfect way to enrich the most succulent dishes. The founders of Mexican origin understood those subtleties and crafted a cream with European influence which highlight Mexican cuisine.
All of our products are made in the United States.
Find Store Now!