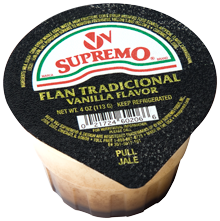 Traditional Flan
from V&V SUPREMO®
FLAVOR PROFILE:
Creamy and sweet with rich caramel and vanilla notes.
CHARACTER & TEXTURE:
Classic smooth custard based dessert.
SUGGESTED APPLICATIONS:
Serve as is-include dessert trays.
BACKGROUND:

Mexican style traditional flan is one of the most popular traditional desserts throughout México-rich baked custard with a caramel topping.
All of our products are made in the United States.
Find Store Now!