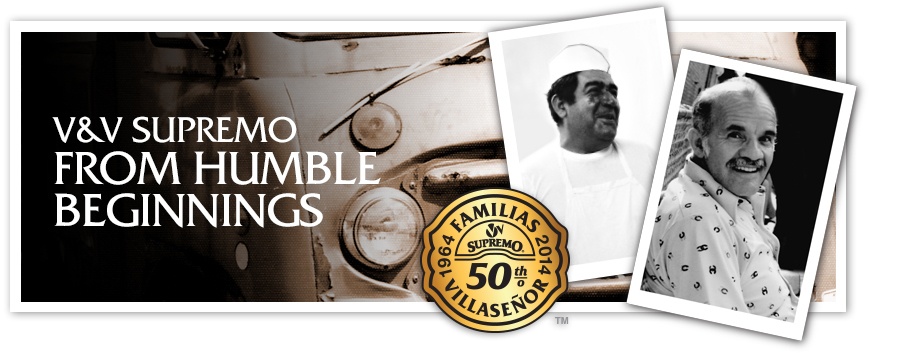 We are a Chicago based company founded by Mexican (Michoacán) natives Gilberto Villaseñor Sr. and Ignacio Villaseñor in 1964. Their story qualifies as a textbook example of the American Dream come true. The Villaseñors perceived a need in their community for the fresh farmer's cheese that evoked the countryside of Central Mexico and acted on their instincts. The discerning palates of the rural Central Mexican immigrants that populated Chicago made the decision, and demand for this hand-crafted queso fresco soon far exceeded supply.
The historic Back-of-the-Yards neighborhood on Chicago's south side was the location of our humble beginnings, but operations quickly moved to the Mexican enclave of Pilsen, near the bustling South Water Market, which brought in retailers and restaurateurs from across the Midwest. The Villaseñors rose to the occasion, providing the quantity and product variety that the market demanded. V&V Supremo® has provided a full line of dairy and meat products to the Hispanic community and well beyond for four generations, making us the oldest family run business of our kind in the U. S. We have built our reputation through the years by paying attention to the lessons of our elders and offering the highest quality products in the market, crafted with a devout respect for our heritage.
Today, over 50 years since our inception, the sons of our founders and the current driving forces of the company are Gilberto Villaseñor II and Philip Villaseñor. They maintain continuity of original values while introducing a steady stream of innovations through state-of-the-art technology and progressive business practices. Their visionary fervor has allowed the company to progress significantly over the years by continually providing new products, improved service, meticulous quality control, and infrastructural fortification.
The V&V Supremo® family goal has always been to bring our passion to the plate. Thank you for having us in the kitchen, on the menu, and at the table.

Our professional staff
Our professional staff is over 240 strong, and highly committed to exceeding our customer's expectations and needs. The open spirit of our work environment encourages a true team effort by inviting participation through honest opinions and the sharing of ideas.