GREEN BEAN SALAD WITH COTIJA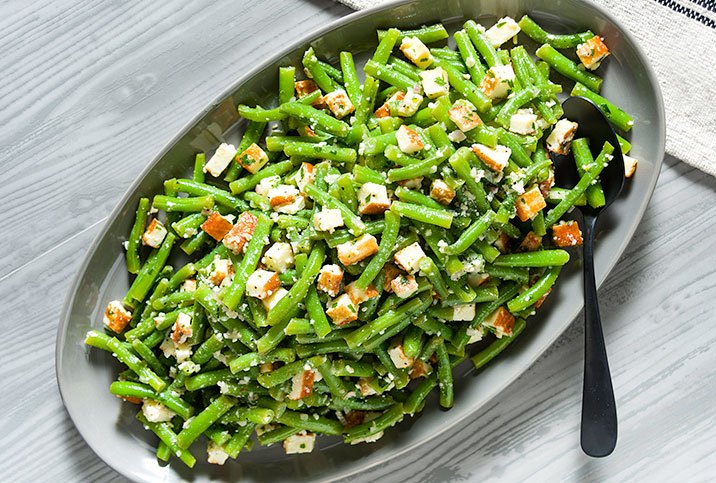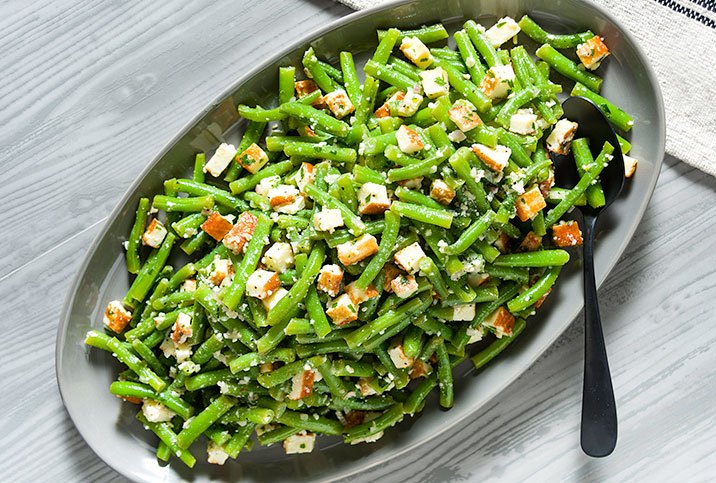 Ingredients
2 Tbsp. finely chopped shallots
1 Tbsp. white wine vinegar
1 tsp. minced garlic
1 tsp. Dijon mustard
3 1/2 tsp. kosher salt
1/4 tsp. ground black pepper
1 Tbsp. finely chopped parsley
1/4 Cup extra virgin olive oil
1 lb. fresh green beans, cleaned & cut into thirds, on a bias
2 Tbsp. Grated Sierra® Cotija Cheese from V&V SUPREMO®
4 1/2 oz. piece of Sierra® Cotija Cheese from V&V SUPREMO®
Method of Preparation
In a small bowl, whisk shallot, white wine vinegar, garlic, Dijon mustard, 1/2 tsp. kosher salt, black pepper, parsley, and extra virgin olive oil until well combined. Set aside.
Pre-heat a non-stick skillet over medium heat for 2 minutes. Cut Cotija wedge in half lengthwise. Place the two halves in the skillet and sear each side for 30 seconds. When done, cut each slice lengthwise and then into small cubes. Set aside.
Boil 2 quarts of water with 1 Tbsp. kosher salt. Add in green beans and boil for 2 ½ minutes. Drain and transfer beans to a medium bowl. Add dressing to warm beans along with grated and seared Cotija cheese.
Notes
Notes: Yields 6 side portions.
Processing...