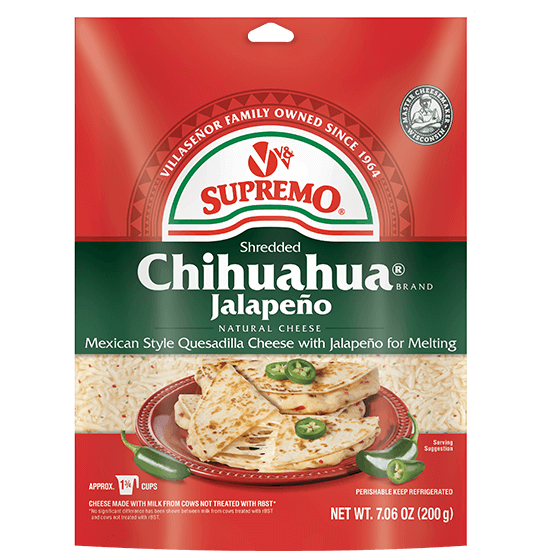 Shredded
Chihuahua®
Brand
Quesadilla Cheese
with Jalapeño
from V&V SUPREMO®
QUALITY ATTRIBUTES:
Made with 100% grade "A" whole pasteurized cow's milk
rBGH artificial hormone free
Gluten free
Additive and preservative free
Artificial and processed ingredient free
Lacto-ovo vegetarian
FLAVOR PROFILE:
Rich, buttery, a little spicy, with true jalapeno pepper flavor.
CHARACTER AND TEXTURE:
Pre- shredded for convenience. Long, luxurious stretch when melted. Festive flecks of red and green pepper.
SUGGESTED APPLICATIONS:
Quesadillas, pizzas, queso fundido, enchiladas, sandwiches, pastas and casseroles. Any melting application where top quality and a little well-balanced heat is desired.
BACKGROUND
Our benchmark "queso-quesadilla" style cheese with a balanced infusion of red and green jalapenos, adding a burst of flavor with a touch of heat.
All of our products are made in the United States.