News & Headlines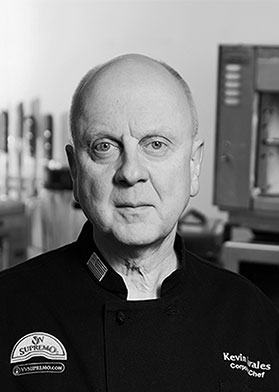 September 29, 2017
0 Comment
Meet Corporate Chef Kevin Karales
Kevin Karales is a Chicago native raised in the historic "Back of the Yards" neighborhood.  He attended St. Ignatius College Preparatory, received a B.A. Degree in Sociology from Roosevelt University, and completed various graduate courses at the University of Illinois. He had an early career in Criminal Justice research that took place at the American Bar Foundation, where his findings on police shootings and response to domestic violence issues were published in several reports.
After graduating from the "old" Washburne chef training school, (when it was the most established chef program in the Midwest) he worked with a number of catering firms, and with well-known Chicago chef Michael Beck, preparing classic European cuisine.
In 1987, Chef Kevin helped celebrity chef Rick Bayless open the multi-award winning regional Mexican restaurant Frontera Grill, and presided there (and at the 4-star sister restaurant "Topolobampo") as Managing Chef until 1999.  During this time, Kevin was responsible for all aspects of the kitchen, including the organization of special events, menu items (developed through extensive research in various regions of Mexico), and working closely with local farmers.  Numerous awards and top ratings were achieved during this period.  After working with Mr. Bayless, Kevin consulted for various Mexican restaurants, including the Hacienda chain in Indiana, Presidio in San Antonio, and Chicago Restaurants Chilpancingo and Ixcapulzalco. More recently, he opened Savor-a contemporary Cajun bistro, and the highly rated Platiyo-a regional Mexican restaurant associated with the Francesca Restaurant group.
Currently, Kevin is the Corporate Chef for V&V Supremo Foods, Inc., the nation's premier Mexican cheese producer, where he develops recipes focusing on the entire product line, along with presentations for employee orientations, broker training, industry food shows and sales meetings. He also provides copy for marketing, supports production and graphics departments, and is available for menu development, and consulting.