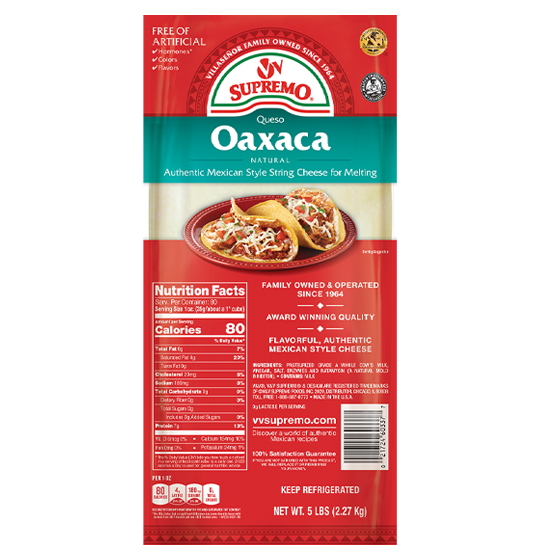 Oaxaca Cheese
from V&V SUPREMO®
QUALITY ATTRIBUTES:
Made with 100% grade "A" whole pasteurized cow's milk
rBGH artificial hormone free
Gluten free
Additive and preservative free
Artificial and processed ingredient free
Lacto-ovo vegetarian
FLAVOR PROFILE:
Mild, rich, milky and slightly tangy. 

CHARACTER AND TEXTURE:
Stretched curd type cheese, with semi-soft texture. Can be peeled and eaten as string cheese- Also melts easily with a long stretch and slight chew in the bite.
SUGGESTED APPLICATIONS:
String this cheese and enjoy as-is, for snacks, sandwiches, and salads. Melt for quesadillas, pizzas, queso fundido, enchiladas, sandwiches, pastas, and casseroles.
BACKGROUND
A legendary cheese originating from the South of Mexico and now well-known throughout the country, this versatile cheese is perfect for stringing and eating as is, or shredding and melting. Crafted from whole milk, this is a non-processed, all-natural cheese with a flavor that appeals to kids as well as adults.
All of our products are made in the United States.