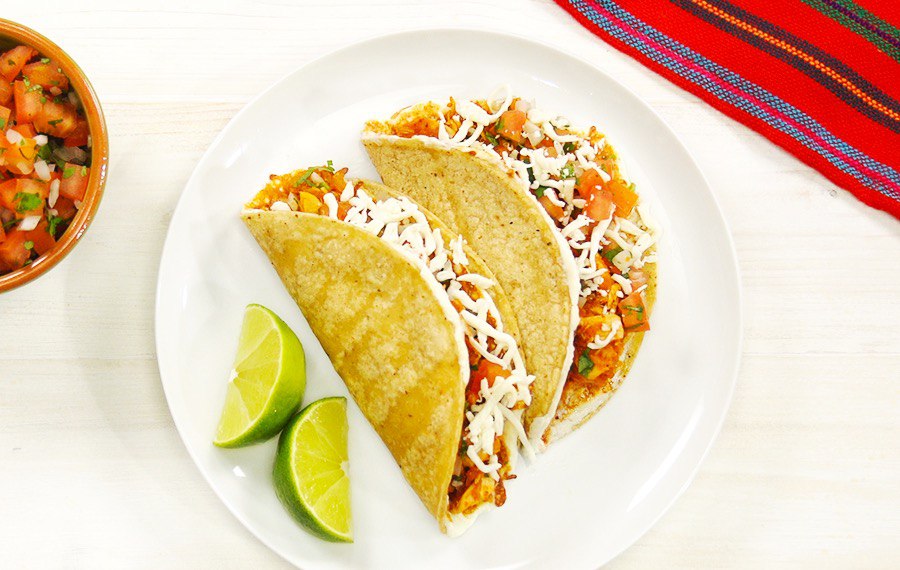 Oaxaca Cheese and Chicken Tacos
by
V & V Supremo Foods, Inc.
Oaxaca Cheese and Chicken Tacos are perfect for summer-time taco night! Seared Oaxaca Cheese adds an exciting flavor to this recipe!


Ingredients
Garnish
½ cup Roma tomatoes, small dice

2 Tbsp. white onion, small dice

1 Tbsp. fresh cilantro, rough chop
5 Steps to complete
1

In a bowl; combine diced tomato, onion, and cilantro. Mix until all ingredients are fully incorporated, cover, and set aside until needed.

2

In a blender; combine quartered tomatoes, chipotle pepper, adobo sauce, oregano, salt, pepper, and water. Blend for 1 to 2 minutes or until smooth. Set aside until needed.

3

Preheat oil in a cast iron skillet for 2 minutes over medium high heat. Add onion and sauté for 1 minute. Add garlic and continue to cook for an additional 30 seconds. Pour in blended sauce, reduce heat to medium, and simmer for 2 to 3 minutes or until sauce thickens slightly. Add chopped chicken and continue to simmer for 3 to 5 minutes or until chicken has absorbed the sauce. Divide into 4 portions and keep warm until needed.

4

Preheat a nonstick griddle for 1 minute over medium heat. Place ¼ cup Oaxaca Cheese on the griddle and sear for 45 seconds to 1 minute to allow the cheese to form a single caramelized layer. Top cheese with a warmed tortilla and press down lightly so that the melted cheese adheres to the tortilla. Repeat this step for the remaining tortillas.

5

Fill each cheesy tortilla with 1 portion chicken, the tomato onion mixture, and extra Shredded Oaxaca Cheese. Serve and enjoy!
Comments
Related products
WHERE TO BUY
Missing some of the ingredients produced by VV Supremo? Find the nearest store in your area:
Find Store Now!
Store Locator
Great Places You Can Find
Our Products

Find A Store Now!
Available At
Great Places You Can Find
Our Products