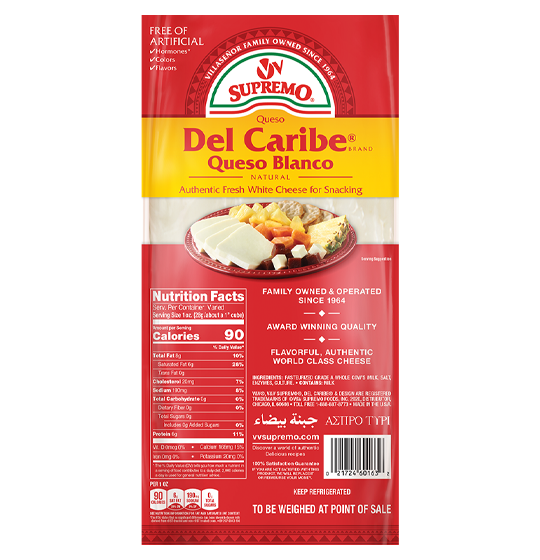 Queso Blanco Del Caribe®
Cheese
from V&V SUPREMO®
QUALITY ATTRIBUTES:
Made with 100% grade "A" whole pasteurized cow's milk
rBGH artificial hormone free
Gluten free
Additive and preservative free
Artificial and processed ingredient free
Lacto-ovo vegetarian
FLAVOR PROFILE:
Queso Blanco cheese is mild with rich, fresh cream flavor. Lightly salted.
CHARACTER & TEXTURE:
Smooth texture-for slicing or dicing. Curdlike, with a "squeak" to the bite. Softens with heat, but does not melt.
SUGGESTED APPLICATIONS:
Fantastic with fresh fruit or preserves. Sliced for sandwiches, cubed for salads. Can be pan-seared for a caramelized exterior and creamy center.
BACKGROUND:
A staple throughout Latin-America, Queso Blanco is a crowd-pleaser across the globe; versatile and extraordinarily likeable. All-natural, whole milk cheese with no processed ingredients.
All of our products are made in the United States.