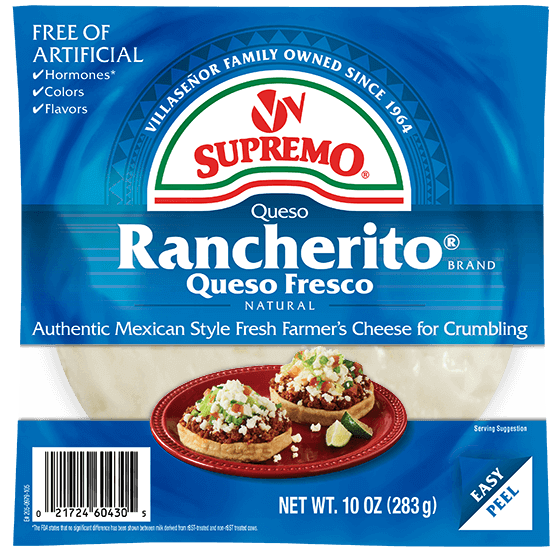 Rancherito®
Brand
Fresh Crumbling Cheese
from V&V SUPREMO®
QUALITY ATTRIBUTES:
Made with 100% grade "A" whole pasteurized cow's milk
rBGH artificial hormone free
Gluten free
Additive and preservative free
Artificial and processed ingredient free
Lacto-ovo vegetarian
FLAVOR PROFILE:
Very mild with fresh cream flavor. Lightly salted.
CHARACTER & TEXTURE:
Soft body, easy to crumble, can be cubed. Softens with heat, but does not melt.
SUGGESTED APPLICATIONS:
Crumble over salads, soups, beans and tacos. Use as a filling for enchiladas, and peppers. Can be enjoyed by itself, or as an accompaniment to meals.
BACKGROUND:
Traditionally the family ranch produced this fresh farmer's cheese. Today, V&V Supremo provides this distinctive, all-natural cheese with no added growth hormones or processed ingredients.
*Only available for sale in Illinois, Indiana, Michigan, and Wisconsin. In all other states this product is available under the V&V Supremo® Queso Fresco label.
All of our products are made in the United States.
Find Store Now!