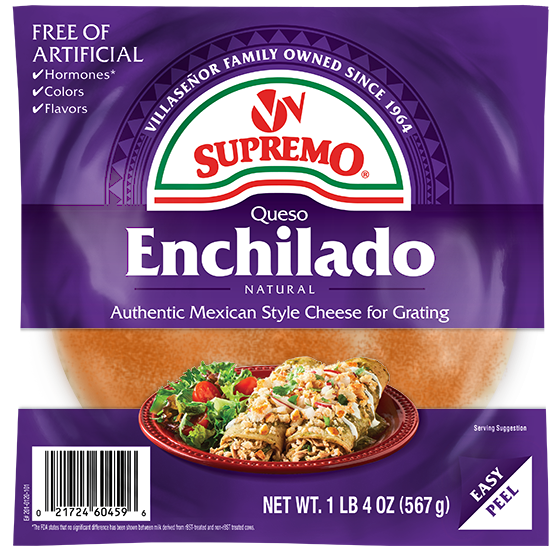 Queso Enchilado Cheese
from V&V SUPREMO®
QUALITY ATTRIBUTES:
Made with 100% grade "A" whole pasteurized cow's milk
rBGH artificial hormone free
Gluten free
Additive and preservative free
Artificial and processed ingredient free
Lacto-ovo vegetarian
FLAVOR PROFILE:
Mild with fresh dairy notes and subtle paprika taste. Lightly salted.
CHARACTER & TEXTURE:
Slightly firmer than our Queso Fresco, with a bright orange hue. Can be crumbled, grated or cubed. Softens with heat, does not melt.
SUGGESTED APPLICATIONS:
Can be grated or crumbled over salads, beans, tacos, tostadas. Used as a filling for enchiladas and stuffed peppers. Cut in cubes for appetizers.
BACKGROUND:
A paprika or pepper coating for cheese goes back for centuries, passed on from Spain to Mexico. Our unique cheese is a whole milk, all-natural product, crafted with respect for tradition.
All of our products are made in the United States.