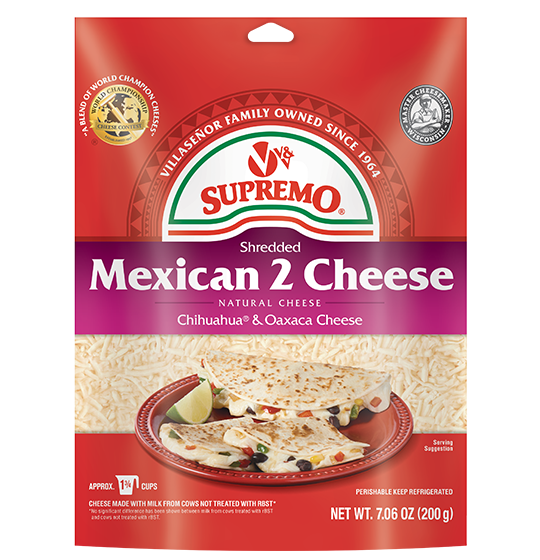 Shredded
Mexican 2 Cheese Blend
from V&V SUPREMO®
QUALITY ATTRIBUTES:
Made with 100% grade "A" whole pasteurized cow's milk
rBGH artificial hormone free
Gluten free
Additive and preservative free
Artificial and processed ingredient free
Lacto-ovo vegetarian
FLAVOR PROFILE:
Shred combination of rich, buttery, slightly tangy and mild, yet full-flavored cheeses.
CHARACTER & TEXTURE:
Pre-shredded for convenience. Long, luxurious stretch when melted. The ultimate authentic two-cheese blend featuring the superstars of Mexican-style melting cheese. A 50/50 blend of pale golden and white creamy colors that remain distinct when melted.
SUGGESTED APPLICATIONS:
Quesadillas, queso fundido, enchiladas, pizza, sandwiches, pastas, and casseroles. Any melting cheese application, where top quality product is desired.
BACKGROUND:
The importance of high-quality melting cheese in Mexican cuisine is evident throughout Mexico and the U.S. We provide the Gold Standard for "queso quesadilla" style cheese, and Oaxaca cheese with incomparably sumptuous, buttery dairy notes, slight tanginess and supple texture. Whole milk, non-processed, all-natural premium product for discerning palates.
All of our products are made in the United States.