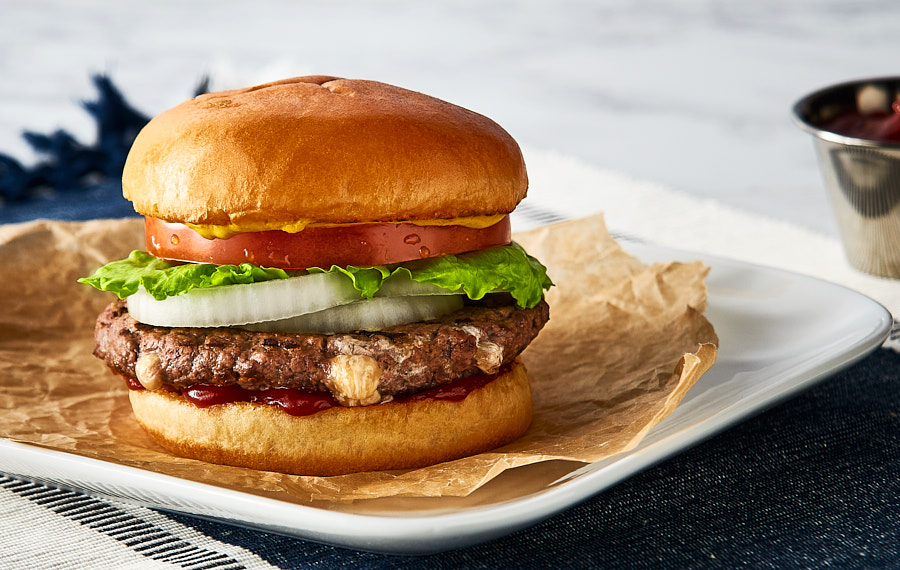 3 Cheese Stuffed Burger
by
V & V Supremo Foods, Inc.
Juicy and satisfying, 3 Cheese Stuffed Burger hide molten treasure in the center! Every bite of this summertime treat is overflowing with the flavor of V&V Supremo Mexican 3 Cheese Blend.


Ingredients
1lb. ground beef, 90/10

½ tsp Kosher salt

½ tsp black pepper, ground

¼ tsp onion powder

¼ tsp garlic powder

Wax paper

2 cups Shredded Mexican 3 Cheese Blend from V&V SUPREMO®

4 brioche hamburger buns, toasted

¼ cup ketchup

½ large large white onion, sliced into rings

4 pieces iceberg lettuce, cored, separated into leaves

4 slices beefsteak tomato

2 Tbsp. yellow mustard
5 Steps to complete
1

In a medium bowl; combine ground beef, salt, pepper, onion powder, and garlic powder mixing until thoroughly combined.

2

Divide beef into 8 equal portions; place each portion between two pieces of wax paper. Flatten each portion to ½-inch thick round patties.

3

Place ½ cup shredded 3-cheese blend in a small mound at the center of 4 patties. Top with a second patty, pinch the edges of the beef to form a tight seal, round out the edges, and flatten slightly to prevent any air pocket from forming. Refrigerate for a minimum of 2 hours.

4

Preheat a cast-iron skillet over medium-high heat for 2 minutes. Reduce flame to medium and cook stuffed burgers for 5 to minutes, flipping once, or until burgers reach in internal temperature of 160°F. Or to prepare burgers on an outdoor grill, preheat grill to 375°F and cook for 10 to12 minutes, flipping once, or until burgers reach in internal temperature of 160°F.Remove from grill and allow burgers to rest for 3 to 4 minutes covered.

5

To build one burger; spread 1 tablespoon ketchup on bun bottoms and ½ tablespoon mustard on bun tops. Place burger patty on bun bottom; top with onion, lettuce, tomato, and bun top. Serve and enjoy!
Comments
WHERE TO BUY
Missing some of the ingredients produced by VV Supremo? Find the nearest store in your area:
Find Store Now!
Store Locator
Great Places You Can Find
Our Products

Find A Store Now!
Available At
Great Places You Can Find
Our Products