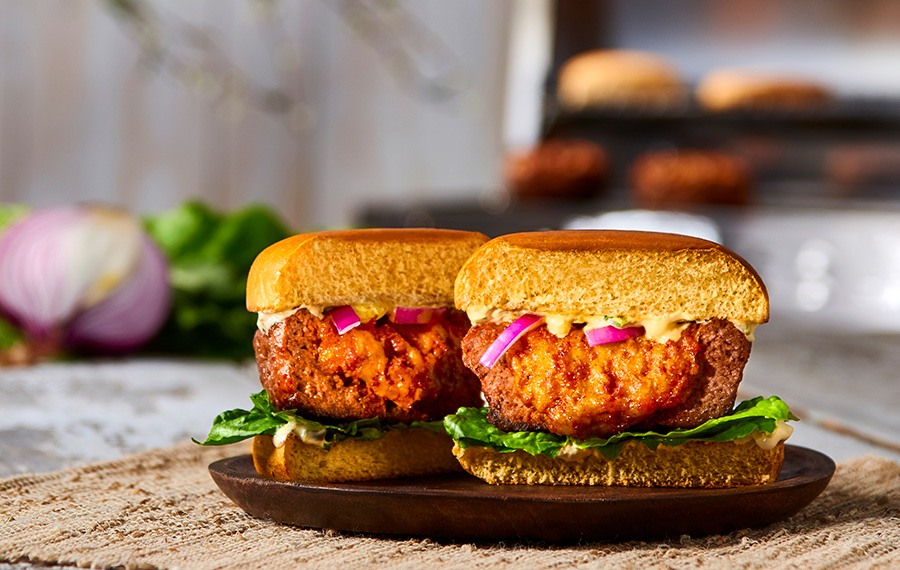 Burger Filled with Chorizo and Cheese
by
V & V Supremo Foods, Inc.
Thinking of grilling this weekend? Try these Burger Filled with Chorizo and Cheese are tasty and original, with lettuce, tomato and a delicious sour cream spread!


Ingredients
Sour cream spread:
¾ cup Supremo® Brand or Chihuahua® Brand Mexican Sour Cream from V&V SUPREMO®

2 Tbsp. green onion, chopped

2 Tbsp. pickled jalapeño, seeded, chopped

1/8 tsp. ground black pepper

1 Tbsp. Ketchup

½ Tbsp. yellow mustard

1 Tbsp. dill relish
7 Steps to complete
1

Sour cream spread: Mix sour cream, green onion, pickled jalapeño and black pepper in a medium bowl. Reserve ¼ cup of cream mixture and set aside. Now add Ketchup, mustard, and relish to the rest of the sour cream mixture. Chill until ready to be used.

2

Chorizo filling: Preheat a pan for 1 minute over medium heat. Add chorizo and cook for 3 minutes, add onion and continue to cook for 5 minutes. Once cooked, transfer to a bowl, let cool for 2 minutes. Mix in Chihuahua® cheese and the reserved ¼ cup sour cream mixture. Set aside.

3

Burger: In a large bowl, combine ground beef with salt, pepper, and garlic, mix in with your hands. Divide meat mixture into 4 portions. Roll each portion with your hands into a ball and place on a parchment- lined baking tray.

4

Using a clean soda can, press the meat around the can to create a bowl. Make sure to smooth out any cracks. Fill the bowls with about 1/3 cup of the chorizo, cheese mixture. Wrap bowls with wax paper and refrigerate for 2 hours.

5

Preheat the grill to 350˚F.

6

Cook burger bowls over indirect heat for 20-25 minutes covered.

7

Assemble: Spread 1 Tbsp. sour cream mixture on each toasted bun, place 1-piece of lettuce on the bottom bun, then burger patty, and onions. Top with bun and enjoy!
Comments
WHERE TO BUY
Missing some of the ingredients produced by VV Supremo? Find the nearest store in your area:
Find Store Now!
Store Locator
Great Places You Can Find
Our Products

Find A Store Now!
Available At
Great Places You Can Find
Our Products