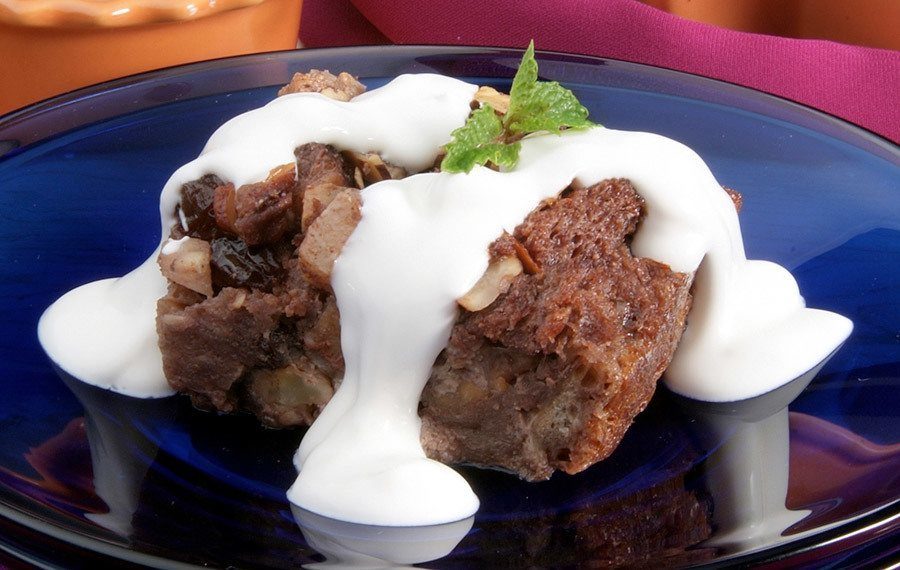 Capirotada
by
V & V Supremo Foods, Inc.
The Capirotada is Mexico's classic Lenten dessert, although the sweet spices along with fruits and nuts certainly will evoke Christmas. Queso fresco is a very traditional ingredient, and the topping of honey-laced sour cream really places our version of this seasonal treat in a class all of its own.


Ingredients
8 slices french style bread, diced (½ inch)

1 cup pecans, toasted in 350 degree oven for 20 minutes

½ cup almond slices toasted in 350 degree oven for 5 minutes

1 ripe plantain (soft, blackened), diced (½ inch)

1 large apple, peeled, diced (½ inch)

1 stick unsalted butter, plus extra for baking dish

15 oz. V&V SUPREMO® Brand Queso Fresco Cheese or Queso Rancherito®, diced (½ inch)

¾ cup raisins

½ cup red wine

1 cup For the garnish : V&V SUPREMO® Brand Mexican Sour Cream or Rancherito® Brand Mexican Sour Cream from V&V Supremo® V&V SUPREMO®

1 Tbsp. For the garnish : honey
10 Steps to complete
1

Preheat oven to 350°F.

2

Butter a 9x12 inch baking dish.

3

Place all syrup ingredients in saucepan, bring to boil, reduce heat to low, simmer for 20-25 minutes, or until reduced to 1½ cups. Strain syrup, discard solids.

4

Place raisins and ½ cup wine in saucepan over medium heat for 5 minutes, or until wine is absorbed. Set aside.

5

Place a large skillet over medium heat, add 4 oz. butter. When melted, add diced plantains and cook, stirring until browned. Add apples and cook 1 minute.

6

Place all dry ingredients in large bowl, including plantains, apples and butter from skillet. Add syrup to bowl, mix well. Place ½ the mixture in the baking dish.

7

Whisk custard ingredients together in separate bowl. Pour ½ of the custard over the layer in the baking dish. Add the remaining dry ingredients, and pour the rest of the custard over.

8

Press down on top of mixture with your hands. Place in oven for 45 minutes.

9

Remove from oven and let it rest for 10-15 minutes before serving

10

In a small bowl whisk together sour cream and honey.
Comments
WHERE TO BUY
Missing some of the ingredients produced by VV Supremo? Find the nearest store in your area:
Find Store Now!
Store Locator
Great Places You Can Find
Our Products

Find Store Now!
Available At
Great Places You Can Find
Our Products
Come Join Us
Sign Up to our newsletter to get
the latest updates and recipes