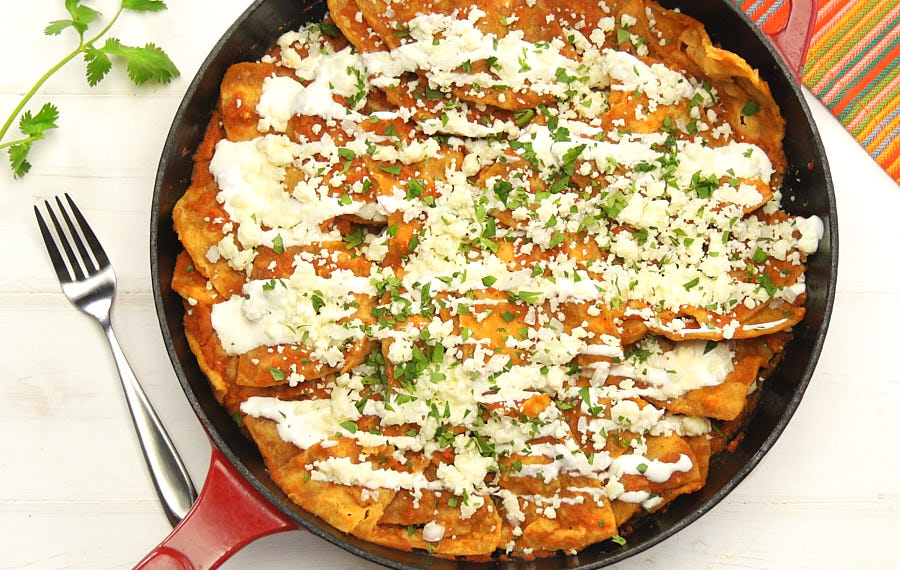 Chilaquiles with Salsa Roja
by
V & V Supremo Foods, Inc.
Our Chilaquiles with Salsa Roja recipe is one classic Mexican dish. The crunchy fried tortilla absorbs the unique flavor of the smoky sauce made with dry chiles and gives a great texture to this dish. The final touch, our fresh crumbling Queso Fresco, and Supremo® Brand Mexican Crema.


Ingredients
Salsa roja
1 dry chipotle pepper

2 dry arbol chili pepper

3 Roma tomatoes

4 cloves garlic

¼ medium white onion, peeled

1 Tbsp. packed fresh cilantro leaves

1½ tsp. kosher salt

¼ tsp. ground black pepper

1 tsp. vegetable oil
6 Steps to complete
1

In a small pot or saucepan; combine dried peppers, tomato, onion, and garlic. Add enough water to cover. Bring to a boil over medium high heat and cook for 5 to 6 minutes. Reserve ½ cup cooking liquid.

2

Transfer boiled vegetables to a blender. Add cilantro, salt, pepper and ½ cup of the cooking water. Puree for 1 minute; be sure to hold down the lid with a kitchen towel for safety. Blend for 1 to 2 minutes or to desired consistency. Set aside until needed.

3

Preheat vegetable oil in a heavy-bottomed pot for 4 to 5 minutes over medium-high heat. Working in batches, fry tortilla wedges until golden brown for 2 to 3 minutes, turning constantly. Remove the chips to a paper towel-lined baking pan to drain. (Let the oil return to the proper temperature between batches.) Set aside until needed.

4

Heat remaining 1 teaspoon oil in a wide pot for 1 minute over medium heat. Add blended sauce and simmer for 2 to 3 minutes or until sauce has thickened slightly. Add fried tortillas to the pot and gently toss until fried tortillas are well coated.

5

In a bowl; combine crumbled Queso Fresco and ¼ cup diced onions. Mix until thoroughly combined and set aside.

6

Divide the chilaquiles among 4 plates. Sprinkle with 2 tablespoons sour cream, 3 tablespoons Queso Fresco mixture, and cilantro. Serve immediately and enjoy!
Comments
WHERE TO BUY
Missing some of the ingredients produced by VV Supremo? Find the nearest store in your area:
Find Store Now!
Store Locator
Great Places You Can Find
Our Products

Find A Store Now!
Available At
Great Places You Can Find
Our Products