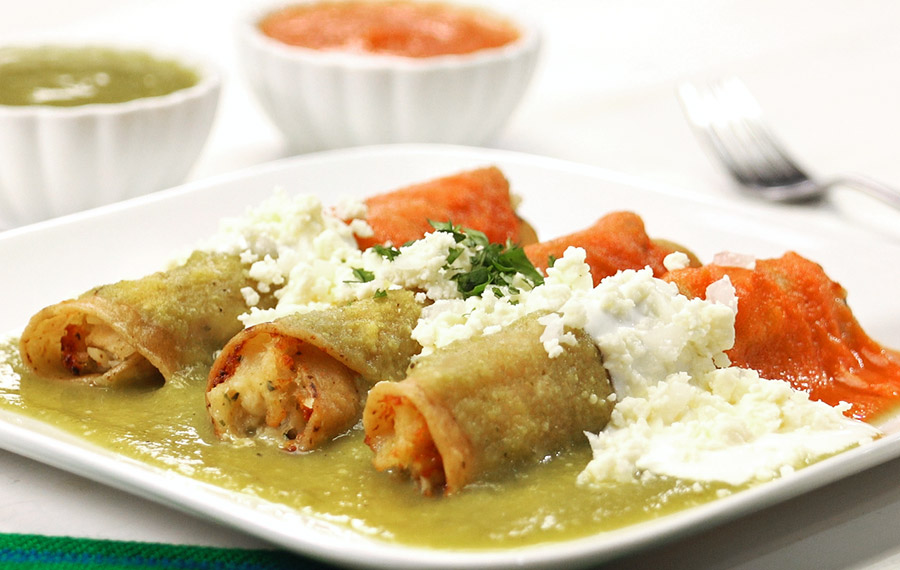 Crunchy Chicken Taquitos
by
V & V Supremo Foods, Inc.
Let's get festive with these Crunchy Chicken taquitos, the best way to honor Mexican National Holidays. Crunchy tortillas stuffed with chicken and Chihuahua® Cheese served with green tomatillo sauce, Supremo® Sour Cream, Queso Fresco, red chipotle sauce to allude the Mexican flag in a tasty way. Light up your Mexican night and prepared them!


Ingredients
Tomato sauce
4 Roma tomatoes

2 garlic cloves

¼ white onion

1 chipotle pepper in adobo sauce

1 Tbsp. chipotle adobo sauce

1 tsp. Kosher salt

½ tsp. black pepper ground

1 tsp. vegetable oil
9 Steps to complete
1

Place all the vegetables for both sauces in a large pot. Add about 8 cups water into the pot and bring to a boil over medium heat. Boil for 8-10 minutes. Drain and let cool.

2

Tomato sauce; place Roma tomatoes, 2 garlic cloves, ¼ onion, chipotle pepper, adobo sauce, salt and pepper in the blender. Blend at high speed for 1 minute. Transfer sauce to a medium bowl. Set aside. Rinse out blender.

3

Tomatillo sauce; place the rest of the boil vegetables, add cilantro, salt and pepper in the blender. Blend at high speed for 1 minute. Transfer sauce to a medium bowl and set aside.

4

Fry sauces separately by preheating, 1 teaspoon oil in a pot or pan over medium heat for 1 minute. Pour blended sauces in each pot. Simmer 3-4 minutes. Keep sauces hot over low heat.

5

Filling; preheat 1 tablespoon oil in a large skillet. Add diced onion and saute for 1 minute over medium heat. Add rotisserie chicken, garlic, salt, black pepper and cook for approximately 2-3 minutes. Turn off the heat. Let cool for about 2 minutes. Mix in cilantro Chihuahua® cheese and. Divide mixture into 12 portions and set aside.

6

Fill each warm tortilla with about 2-3 Tbsp. Chicken mixture. Tightly roll up each tortilla and secure with a toothpick, set aside.

7

To fry taquitos; preheat ½ cup of oil in a medium skillet over medium heat for 3 minutes. Fry taquitos in batches until golden brown and crisp, about 2-3 minutes. Transfer fried taquitos to a paper towel-lined plate. Remove toothpicks before serving.

8

Mix crumbled Queso Fresco cheese with the diced onion in a medium bowl. Set aside.

9

Serve taquitos; by spooning about 2 tablespons of the red sauce over half of the plate and green salsa over the other half. Place 3 Chicken Taquitos on top of the sauce. Top taquitos the same way that the bottom sauce was done. Add Sour Cream down the middle between the two sauces. Sprinkle Queso Fresco and onion mixture, over the sour cream. Garnish with cilantro. Serve and enjoy!
Comments
WHERE TO BUY
Missing some of the ingredients produced by VV Supremo? Find the nearest store in your area:
Find Store Now!
Store Locator
Great Places You Can Find
Our Products

Find A Store Now!
Available At
Great Places You Can Find
Our Products