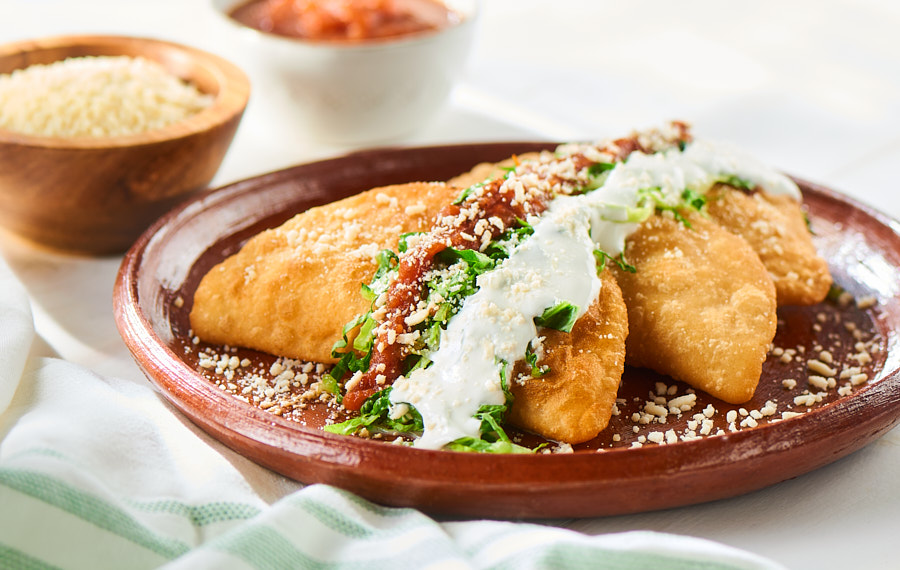 Deep Fried Cheese Quesadillas
by
V & V Supremo Foods, Inc.
Fried quesadillas are commonly sold as street food in Mexico, starts with an uncooked corn tortilla filled with Chihuahua® cheese, topped with lettuce, Cotija cheese​, Salsa and Supremo® Sour cream.


Ingredients
1 cup corn flour for tortillas

¼ tsp. kosher salt

1 cup warm water

Vegetable oil for frying

1 cup + 2 Tbsp. Shredded Chihuahua® Brand Quesadilla Cheese from V&V SUPREMO®, divided
WHERE TO BUY
Missing some of the ingredients produced by VV Supremo? Find the nearest store in your area:
Find Store Now!
6 Steps to complete
1

In a bowl; combine corn flour and salt. Gradually add warm water while mixing until a dough begins to form. Knead dough until it has a soft and moist texture, the masa dough should not stick to the bowl or hands. Form 6 equal sized dough balls with the masa. Cover with a damp towel and let masa rest for 15 minutes.

2

Place a dough ball between two sheets of plastic or parchment paper. Using a round plate, flatten dough by pressing down as evenly as possible.

3

Top half of the tortilla with 3 tablespoons Chihuahua® Cheese. Fold the quesadilla and seal around the edges by pinching the dough shut. Repeat this step for the remaining masa dough balls. Place stuffed quesadillas onto a tray or plate lined with wax paper until ready to fry.

4

Preheat oil for frying in a large cast iron skillet or heavy bottom pot over medium heat for 5 to 7 minutes or until oil reaches 350F.

5

Fry two quesadillas at a time for 1 to 2 minutes on each side until the quesadillas are golden and crispy. Transfer to a paper towel lined plate to drain.

6

Serve quesadillas with lettuce, Cotija Cheese, Salsa and Sour Cream. Enjoy!
Store Locator
Great Places You Can Find
Our Products

Find A Store Now!
Available At
Great Places You Can Find
Our Products