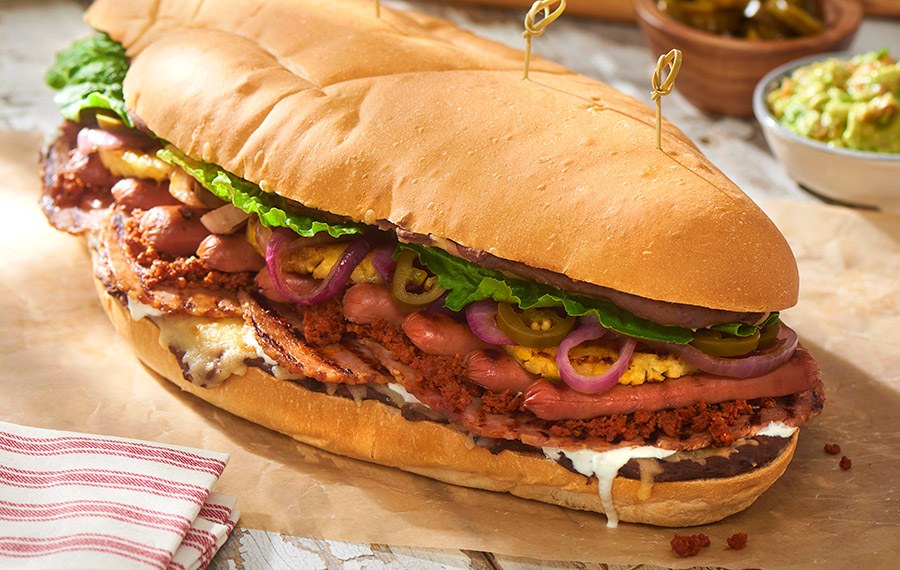 MEGA TORTA
by
V & V Supremo Foods, Inc.
World Championship Soccer season is a time for futbol, friends, and food! Our Mega Torta Sandwich is gigantic combination of 11 ingredients that is perfect for your game-day fiesta!


Ingredients
1 (14 oz.) Vienna bread loaf

1 link from (14 oz.) pkg. Supremo® Brand Pork Chorizo from V&V SUPREMO®

1 (16 oz.) can refried black beans

5 cups Shredded Chihuahua® Brand Quesadilla Cheese from V&V SUPREMO®, divided

Non-stick cooking spray

3 fresh pineapple rings, medium-thick

4 thick slices ham-off-the-bone

5 beef hot dogs, sliced in half lengthwise

1 cup red onion, medium-thick slice, separated into rings

3 Tbsp. 3 Tbsp. Supremo® Brand Sour Cream from V&V Supremo®

12 canned jalapeño pepper slices

2 large leaves Romaine lettuce
8 Steps to complete
1

Preheat broiler to 500°F or high heat.

2

Slice bread loaf in half lengthwise. Scoop out some of the bread bottom leaving ⅔ of the inside intact. Set aside.

3

Preheat a skillet for 2 minutes over medium-high heat; remove Chorizo from plastic casing; cook and crumble Chorizo with spoon for 6 to 8 minutes or until Chorizo is fully cooked. Set aside until needed.

4

In a microwave-safe bowl; heat refried beans for 2 to 3 minutes on high power. Remove from microwave, add 1 cup Chihuahua® Cheese, and stir until cheese melts. Divide into 2 portions.

5

Preheat a large griddle or grill pan for 2 minutes over medium heat. Lightly oil with cooking spray. Cook pineapple, ham, hot dog, and onion in batches. Move pineapple across grill while cooking to allow pineapple flavor to mix with meats and onions. Cook meats for 2 to 3 minutes on each side or until heated through. Cook pineapple and onions for 2 to 3 minutes on each side or until lightly charred. Wrap and keep warm until needed.

6

Place hollowed-out bread loaf, cut side up on a sheet tray. Evenly spread each half with 1 portion cheesy refried beans, and top each side with 2 cups Chihuahua® Cheese. Broil for 3 to 5 minutes or until cheese is golden brown.

7

Drizzle bread bottom with Sour Cream. Top with ham, Chorizo, hot dog, pineapple, onion, jalapeño peppers, lettuce, and bread top.

8

Use long toothpicks or wood skewers to hold sandwich together, slice Mega Torta Sandwich, serve with extra Sour Cream on the side, and enjoy!
Comments
WHERE TO BUY
Missing some of the ingredients produced by VV Supremo? Find the nearest store in your area:
Find Store Now!
Store Locator
Great Places You Can Find
Our Products

Find A Store Now!
Available At
Great Places You Can Find
Our Products