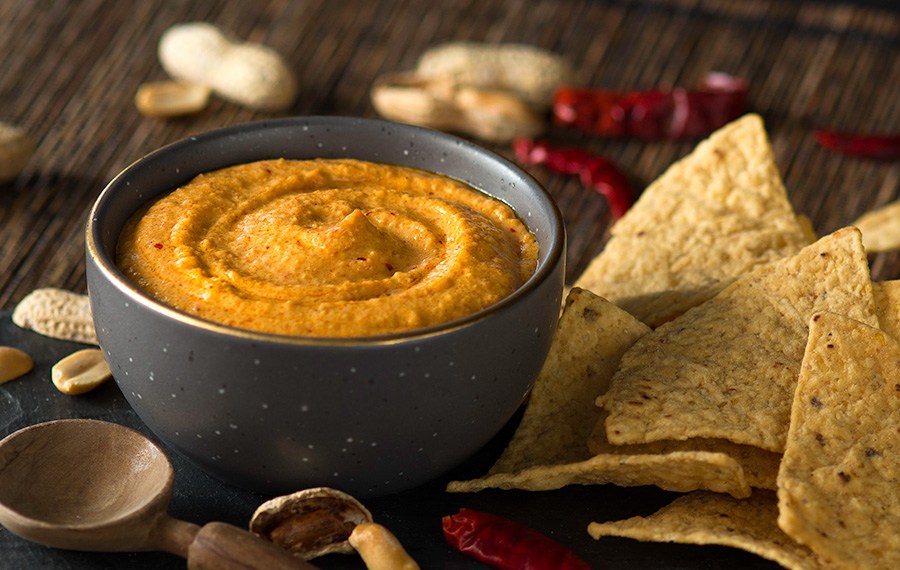 Spicy Creamy Peanut Salsa
by
V & V Supremo Foods, Inc.
Spicy Creamy Peanut Salsa is a zesty and unique addition to your favorite meal. Toasted peanuts and the firey heat of arbol chiles are enhanced with the rich flavor of V&V Supremo Sour Cream.


Ingredients
2 Tbsp olive oli

3 cloves garlic, peeled, sliced

10 arbol chilies

¼ cup peanuts, unsalted

½ tsp salt or to taste

¼ cup water

¾ cup Supremo® Brand or Chihuahua® Brand Mexican Sour Cream from V&V SUPREMO®
4 Steps to complete
1

Heat olive oil in a small pan over medium heat for 2 minutes.

2

Fry the following ingredients one at a time in the same oil for 30 seconds each: garlic, chilies, and peanuts. Reserve oil in the pan and set aside.

3

Place fried chilies and salt in a food processor; blend on high speed for 1 to 2 minutes or until peppers are powered. Add fried peanuts, garlic, water, and sour cream. Process on medium speed for an additional minute, or until the sauce is smooth.

4

Heat reserved oil over medium heat for 30 seconds to a minute. Carefully pour blended peanut mixture into heated pan. Simmer for 1 to 2 minutes or until salsa thickens slightly, allow salsa to cool for 10 minutes. Serve with your favorite dishes. Enjoy!
Comments
Related products
WHERE TO BUY
Missing some of the ingredients produced by VV Supremo? Find the nearest store in your area:
Find Store Now!
Store Locator
Great Places You Can Find
Our Products

Find A Store Now!
Available At
Great Places You Can Find
Our Products