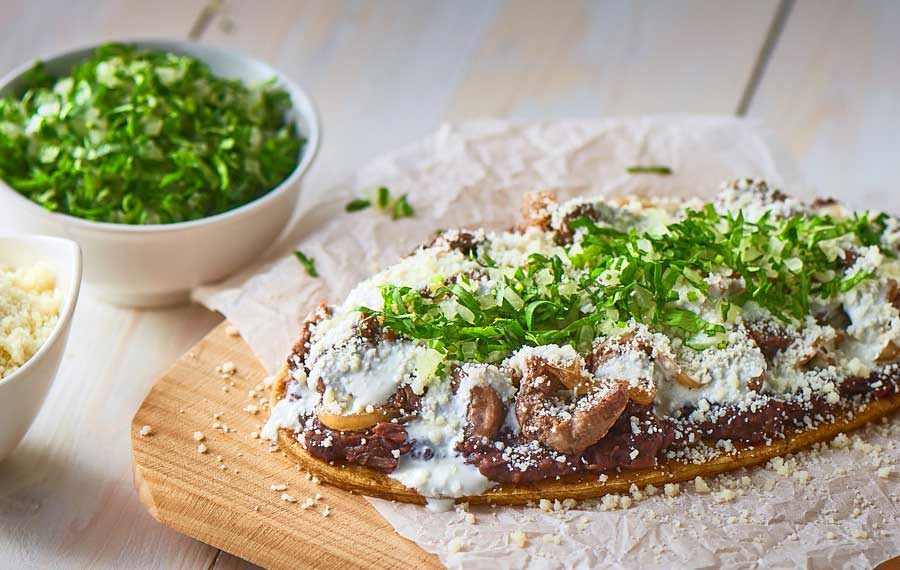 Steak Huaraches
by
V & V Supremo Foods, Inc.
After school, at mealtime, or even before the game, delicious Steak Huaraches are a home-run. Golden toasted V&V Supremo Huaraches are topped with tender marinated steak, refried black beans, Cotija cheese, and sour cream for a tasty meal or sharable snack.


Ingredients
Steak:
1 Ib sirloin steak, sandwich cut, ¾-inch x ½-inch strips

2 Tbsp olive oil

½ cup white onion, fine dice

1 Tbsp lemon juice, fresh

½ tsp garlic powder

½ tsp Kosher salt

1 tsp black pepper, ground

2 Tbsp vegetable oil, divided
6 Steps to complete
1

Marinate steak: In a bowl or large zip top bag; combine steak, 2 tablespoons olive oil, ½ cup white onion, lemon juice, garlic powder, salt, pepper, and mix well. Refrigerate until needed.

2

Prepare refried beans: preheat 1 tablespoon oil in a small pan for 1 minute over medium flame. Sauté onion and garlic for 45 seconds to 1 minute stirring constantly, or until onion starts to soften. Add refried beans and cook for an additional 2 minutes, or until beans are heated through.

3

Cook steak: preheat cast-iron skillet for 2 minutes over high flame. Cook marinated steak for 3 to 4 minutes, stirring occasionally. Divide steak into 4 portions and reserve until needed.

4

Heat huaraches: preheat a medium pan or griddle on high heat for 2 minutes. Brush each side of the huaraches with ½ teaspoon vegetable oil. Place 2 huaraches on the griddle, reduce heat to medium, cover griddle with foil, and heat huaraches for 4 minutes per side.

5

In a small bowl; combine ¼ cup white onion and ¼ cup cilantro, tossing to combine. Reserve until needed.

6

To assemble huaraches: divide beans evenly on each huarache. Top with 1 portion steak, 2 tablespoons cilantro and onion mixture, 2 tablespoons Cotija cheese, and 2 tablespoons sour cream. Serve and enjoy!
Comments
WHERE TO BUY
Missing some of the ingredients produced by VV Supremo? Find the nearest store in your area:
Find Store Now!
Store Locator
Great Places You Can Find
Our Products

Find A Store Now!
Available At
Great Places You Can Find
Our Products