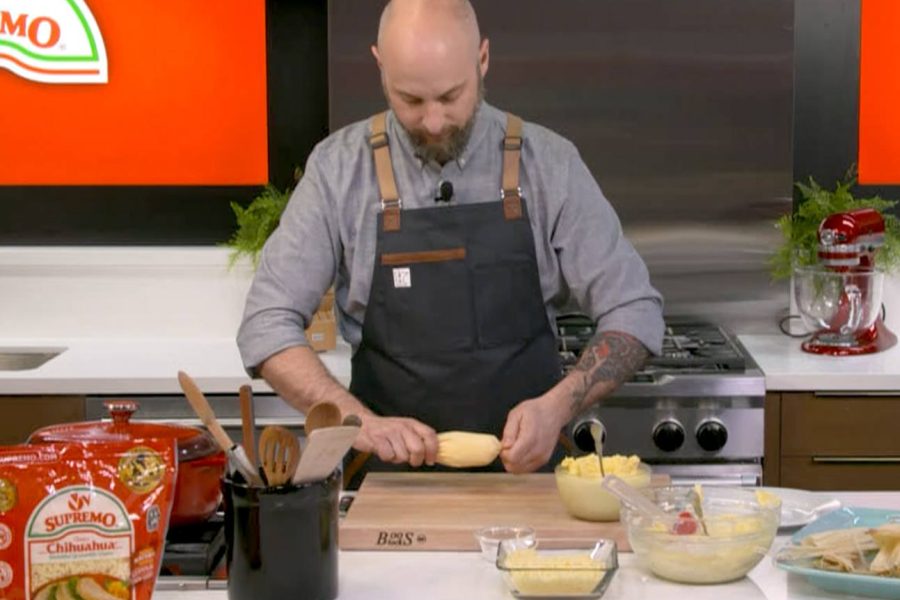 CHEF GUZMAN'S CHIHUAHUA® CHEESE TAMALES
by
V & V Supremo Foods, Inc.
Chef Jorge Guzman's Chihuahua® Cheese Tamales are stuffed with mouth-watering melted Chihuahua® Cheese!


Ingredients
20 dried corn husks

1 cup whole milk

1 cup fresh corn kernels

2 cups yellow cornmeal

¾ cup lard or vegetable shortening

⅔ cup cream cheese

1½ tsp. Kosher salt

1 tsp. baking powder

3 cups Shredded Chihuahua® Brand Quesadilla Cheese from V&V SUPREMO®
7 Steps to complete
1

Bring a medium pot of water to boil. In a temperature-safe bowl; pour enough water over corn husks to cover, weigh down with a plate, and soak for 30 minutes. Drain and pat husks dry with a towel. Set aside until needed.

2

In a heavy-bottom pot; combine milk, corn, and simmer over medium-low heat for 12 to 15 minutes or until corn is tender. Skim top to remove any curdled milk that may have formed. Cool corn and milk for 6 to 8 minutes. Transfer mixture to a blender and blend for 30 seconds to 1 minute, or until mixture is chunky.

3

Place corn meal in a large bowl and pour in blended milk mixture. Stir until all ingredients are fully incorporated.

4

In a large bowl; combine lard, cream cheese, salt, and baking powder. Beat with a hand mixer for 2 to 3 minutes or until mixture is light and fluffy. Slowly fold with corn meal mixture until fully combined. Cover and refrigerate for 30 minutes or up to a day in advance.

5

To assemble; scoop ¼ cup corn meal mixture into each corn husk and flatten to form a disc. Stuff with ¼ cup Chihuahua® cheese and fold corn meal mixture around cheese. Wrap with corn husk and tie on both ends using twine or strips of corn husk.

6

Set up a steamer basket in a large pot with water (making sure bottom of steamer does not touch water). Arrange the tamales standing up in the steamer. Cover tamales with remaining corn husks, and bring water to a boil over high heat. Reduce the heat to medium low, cover and cook tamales for 30 minutes. Remove from the steamer and let rest 5 minutes before unwrapping.

7

Serve Chef Jorge Guzman's Chihuahua® Cheese Tamales and enjoy!
Comments
Related products
WHERE TO BUY
Missing some of the ingredients produced by VV Supremo? Find the nearest store in your area:
Find Store Now!
Store Locator
Great Places You Can Find
Our Products

Find A Store Now!
Available At
Great Places You Can Find
Our Products