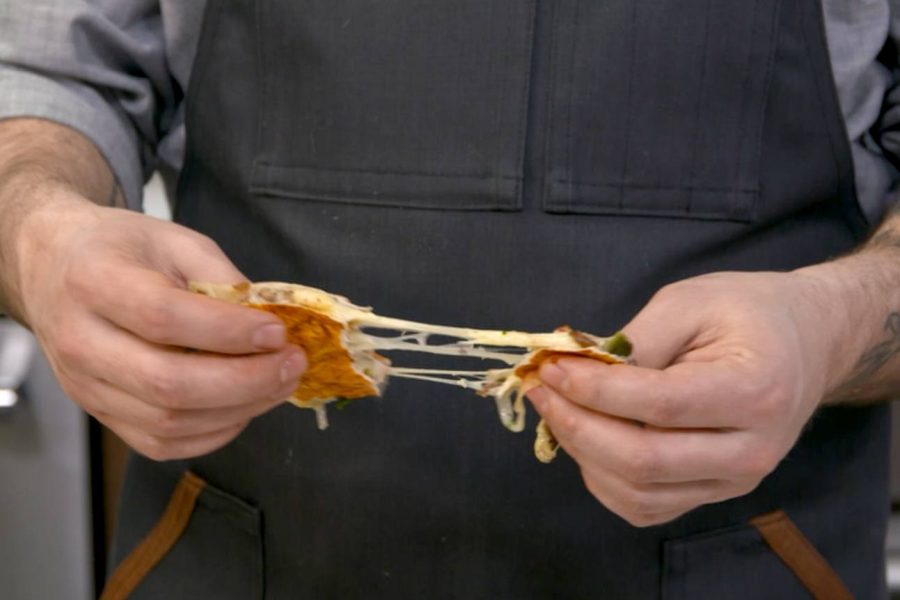 CHEF GUZMAN'S CHIHUAHUA® CHEESE & POBLANO QUESADILLA
by
V & V Supremo Foods, Inc.
Chef Jorge Guzman's delicious recipe for Chihuahua® Cheese & Poblano Quesadillas combine authentic ingredients with Chef techniques for a truly awesome flavor experience.


Ingredients
Salsa roja sauce
3 dried guajillo peppers

1 medium tomato

1 large garlic clove

½ tsp. Kosher salt

¼ tsp. ground allspice
8 Steps to complete
1

Bring a medium pot of water to boil. In a temperature-safe bowl; pour enough water over guajillo peppers to cover, weigh down with a plate, and soak peppers for 5 to 7 minutes. Reserve soaking liquid.

2

Preheat a griddle for 1 to 2 minutes over medium heat. Pan roast tomato and garlic for 5 to 7 minutes or until charred on all sides.

3

In a blender; combine guajillo peppers, tomato, garlic, salt, allspice, and up to ¼ cup of the reserved soaking liquid. Blend for 30 seconds to 1 minute or until salsa is smooth. Strain salsa through a fine mesh strainer to remove skins and seeds. Set salsa roja aside until needed.

4

Preheat oil in a skillet for 1 minute over medium heat. Add onion, mushroom, pepper, and ½ teaspoon salt. Sauté for 3 to 5 minutes or until onions are tender. Remove from heat, stir in chopped cilantro, divide into 4 equal portions, and set aside until needed.

5

Lightly oil grill pan or griddle with cooking spray and preheat for 2 minutes over medium heat.

6

Lay out tortillas on a clean work surface. Spread 2 tablespoons refried black beans over half of each tortilla. Top beans with 2 heaping tablespoons Chihuahua® Cheese, 1 portion vegetable mixture, and an additional 2 heaping tablespoons Chihuahua® Cheese. Fold tortilla over. Brush salsa roja sauce over the top of each quesadilla.

7

Place quesadillas on grill salsa side down and cook for 2 to 3 minutes. Flip, brush other side with salsa roja, and cook for 1 to 2 minutes. Flip one more time and cook for an additional 1 to 2 minutes or until cheese is melted and tortilla is toasted on both sides.

8

Slice Chef Guzman's Chihuahua® Cheese & Poblano Quesadillas, serve, and enjoy!
Comments
Related products
WHERE TO BUY
Missing some of the ingredients produced by VV Supremo? Find the nearest store in your area:
Find Store Now!
Store Locator
Great Places You Can Find
Our Products

Find A Store Now!
Available At
Great Places You Can Find
Our Products