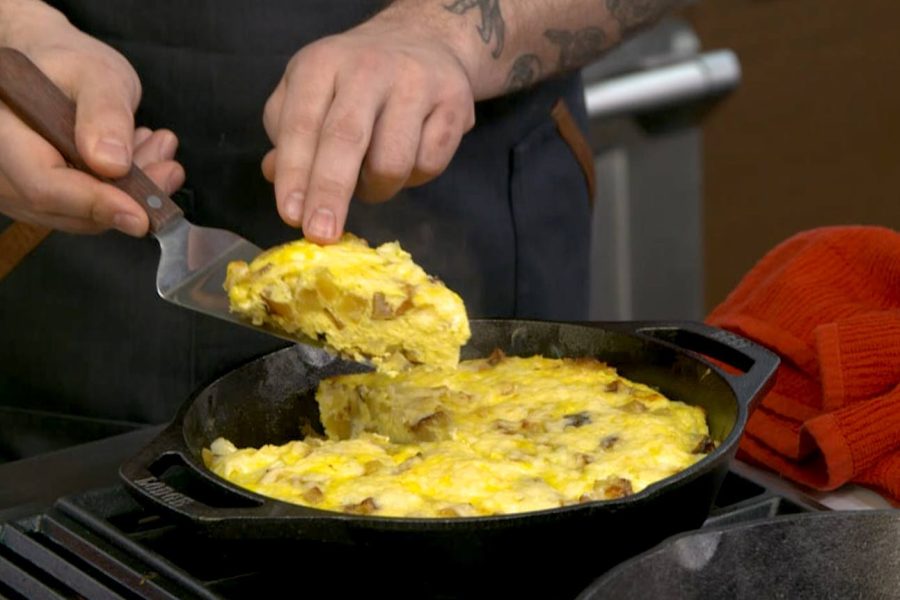 CHEF GUZMAN'S CHIHUAHUA® CHEESE FRITTATA
by
V & V Supremo Foods, Inc.
Chef Jorge Guzman's Chihuahua® Cheese Frittata recipe combines farm fresh eggs, potatoes, and delicious melted Chihuahua® cheese in this satisfying and easy to make dish.


Ingredients
8 large eggs

2 Tbsp. Supremo® Brand Sour Cream from V&V SUPREMO®

1 cup Shredded Chihuahua® Brand Quesadilla Cheese from V&V SUPREMO®

3 Tbsp. olive oil

2 cups Yukon gold potatoes, peeled, medium dice

1 Tbsp. unsalted butter

½ cup white onion, small dice

1 tsp. Kosher salt

⅛ tsp. ground black pepper
6 Steps to complete
1

Preheat oven to 350°F.

2

In a large bowl; whisk together eggs and Sour Cream until smooth. Fold in Chihuahua® Cheese until all ingredients are fully incorporated. Set aside until needed.

3

Preheat oil in a cast iron skillet for 2 minutes over medium heat. Add potatoes and cook for 10 to 12 minutes, stirring occasionally, or until golden brown.

4

Add butter and melt for 30 seconds. Add onion, salt, and pepper. Gently stir and cook for an additional 2 to 3 minutes.

5

Pour egg mixture over potatoes and onions. Cook for 30 seconds to 1 minute, while folding eggs toward center of skillet. Once the edges start to set transfer skillet to oven and bake for 10 to 12 minutes or until eggs reach an internal temperature of 165°F.

6

Slice Chef Guzman's Chihuahua® Cheese Frittata serve and enjoy!
Comments
WHERE TO BUY
Missing some of the ingredients produced by VV Supremo? Find the nearest store in your area:
Find Store Now!
Store Locator
Great Places You Can Find
Our Products

Find A Store Now!
Available At
Great Places You Can Find
Our Products