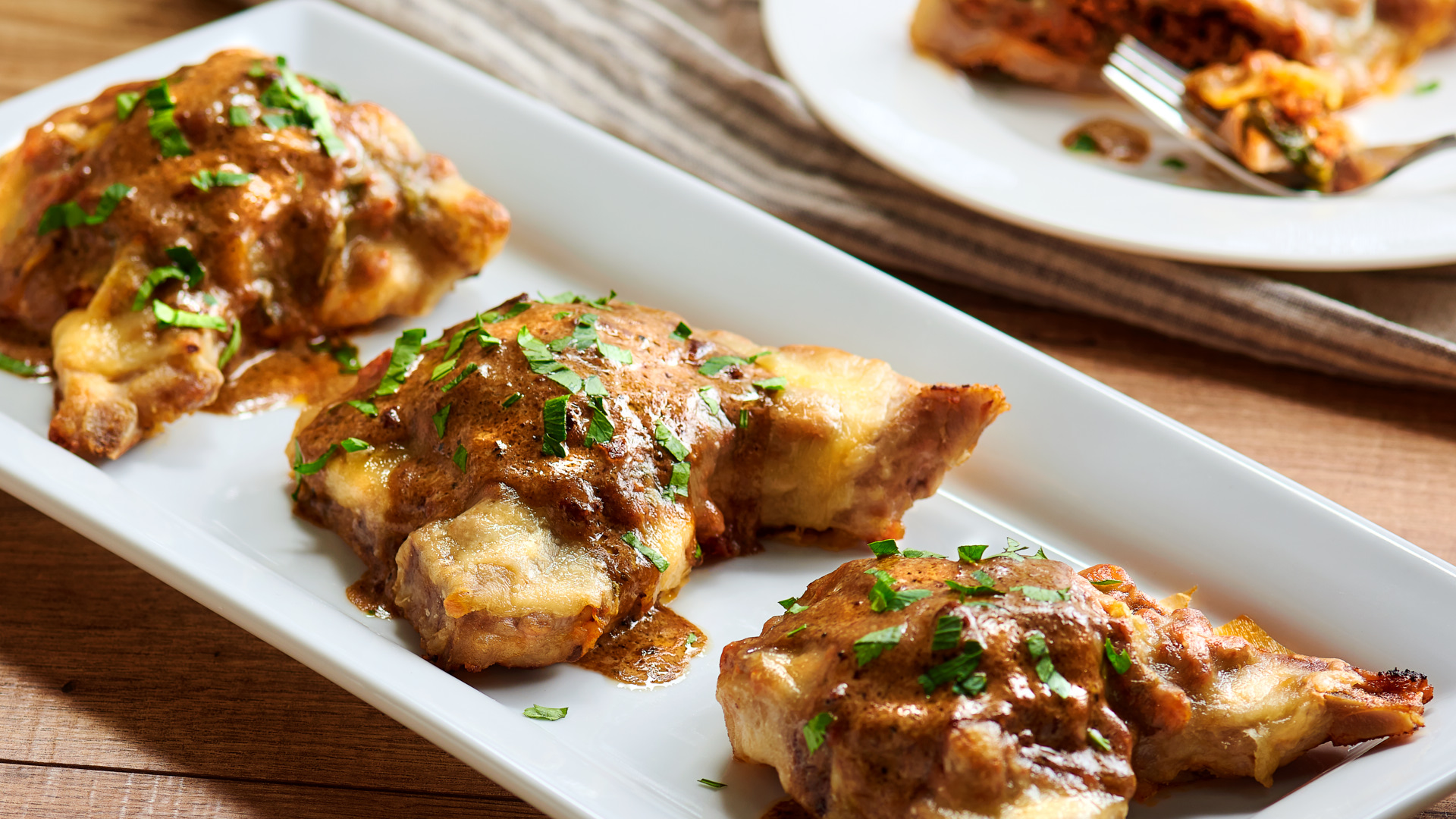 Chorizo Smothered Pork Chops
by
V & V Supremo Foods, Inc.
Chorizo Smothered Pork Chops are tender, juicy, and bursting with the delicious flavor of V&V Supremo®. Pan seared pork chops are topped with spicy Supremo® Brand Pork Chorizo, escarole, and a blanket of melted Chihuahua® Brand Quesadilla Cheese.


Ingredients
2 cups warm water

1 Tbsp. Kosher salt

2 Tbsp. granulated sugar

2 cups ice

4 bone-in pork loin chops, thick cut

1 link from (14 oz.) Supremo® Brand Pork Chorizo from V&V SUPREMO®

½ medium head escarole, chopped

2 tsp. vegetable oil

8 slices Chihuahua® Brand Quesadilla Cheese from V&V SUPREMO®
6 Steps to complete
1

In a large bowl; whisk salt and the sugar in 2 cups warm water until sugar and salt have dissolved. Add 2 cups ice and continue to whisk for 1 to 2 minutes or until water cools. Add pork chops to brine, cover and refrigerate for 15 minutes or up to 1 day in advance.

2

Preheat oven to 400°F.

3

Preheat a medium skillet over medium heat for 1 minute. Remove the plastic casing from the Chorizo and cook for 8 to 10 minutes, breaking up with a spoon while cooking. Add escarole and cook for 30 seconds to 1 minute or until escarole is wilted. Reserve until needed.

4

Drain brined pork chops and pat dry. Preheat a large cast-iron skillet for 2 minutes over medium-high heat. Add 2 teaspoons vegetable oil and sear brined pork chops 3 to 4 minutes on each side or until golden brown. Transfer to a sheet tray lined with parchment paper. Divide chorizo and escarole mixture evenly between each chop and top with 2 slices Chihuahua® cheese. Bake for 10 to 11 minutes or until pork reaches an internal temperature of 165°F and cheese is fully melted and gooey.

5

While pork chops are baking, make Pan Sauce. Heat same skillet where pork chops were seared for 30 seconds to 1 minute over medium-low heat; add stock and simmer for 1 to 2 minutes, whisking constantly to loosen browned bits from pan. Add sour cream, butter, and black pepper. Cook for 1 to 2 minutes, whisking occasionally, or until sauce is smooth.

6

Transfer baked pork chops to plates or a serving platter, spoon pan sauce over pork chops, garnish with chopped parsley, serve, and enjoy!
Comments
WHERE TO BUY
Missing some of the ingredients produced by VV Supremo? Find the nearest store in your area:
Find Store Now!
Store Locator
Great Places You Can Find
Our Products

Find Store Now!
Available At
Great Places You Can Find
Our Products
Come Join Us
Sign Up to our newsletter to get
the latest updates and recipes