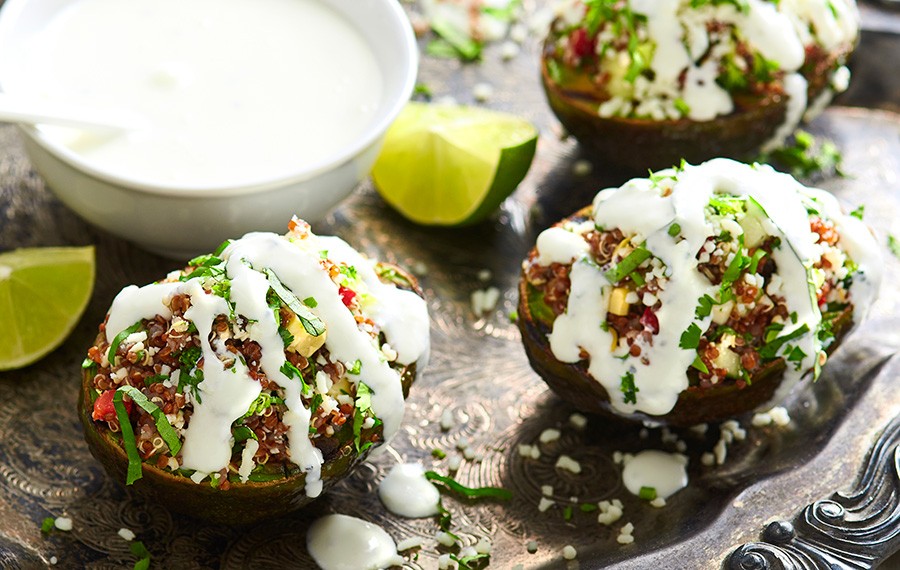 Stuffed Grilled Avocados Recipe
by
V & V Supremo Foods, Inc.
Stuffed Grilled Avocados recipe are a vegetarian delight! Quinoa, avocado, and the tasty flavors of V&V Supremo® Mexican Sour Cream and Sierra® Cotija Cheese make these a delicious addition to any menu.


Ingredients
Creamy Garlic Dressing
¾ cup Supremo® Brand Mexican Sour Cream from V&V SUPREMO

¼ tsp. Kosher salt

1 tsp. Granulated sugar

1/8 tsp. Ground black pepper

1 1/2 Tbsp. Roasted garlic paste

1 Tbsp. White wine vinegar
6 Steps to complete
1

Prepare Creamy Garlic Dressing: in a small bowl, combine sour cream, salt, sugar, black pepper, garlic paste, white wine vinegar, and mix until all ingredients are full incorporated. Set aside until needed.

2

Prepare quinoa: put 1 cup of water and red quinoa in a small sauce pan and bring to a boil, cook quinoa for 6 to 8 minutes or until tender. Set aside to cool.

3

Filling: In a large bowl; Add quinoa, cucumber, red bell pepper, corn, broccoli, basil, cilantro, and ½ cup Cotija cheese. Add maple syrup, olive oil, vinegar, mustard, lemon juice, salt,

4

Grill Avocados: preheat cast-iron grill pan for 2 minutes over medium-high heat. Using a butter knife, score avocado halves into cubes, being careful to avoid piercing the shell.

5

Brush cut side of avocados with lemon juice first, and then with olive oil. Place the avocados cut side down on grill pan. Cook for 1 to 2 minutes, or until avocados have grill marks. Remove from heat and set aside.

6

Stuff each avocado half with a heaping ¼ cup quinoa salad. Top avocados with basil, cilantro Cotija cheese and 1 tablespoon Creamy Garlic Dressing. Serve with lime wedges and enjoy!
Comments
WHERE TO BUY
Missing some of the ingredients produced by VV Supremo? Find the nearest store in your area:
Find Store Now!
Store Locator
Great Places You Can Find
Our Products

Find A Store Now!
Available At
Great Places You Can Find
Our Products