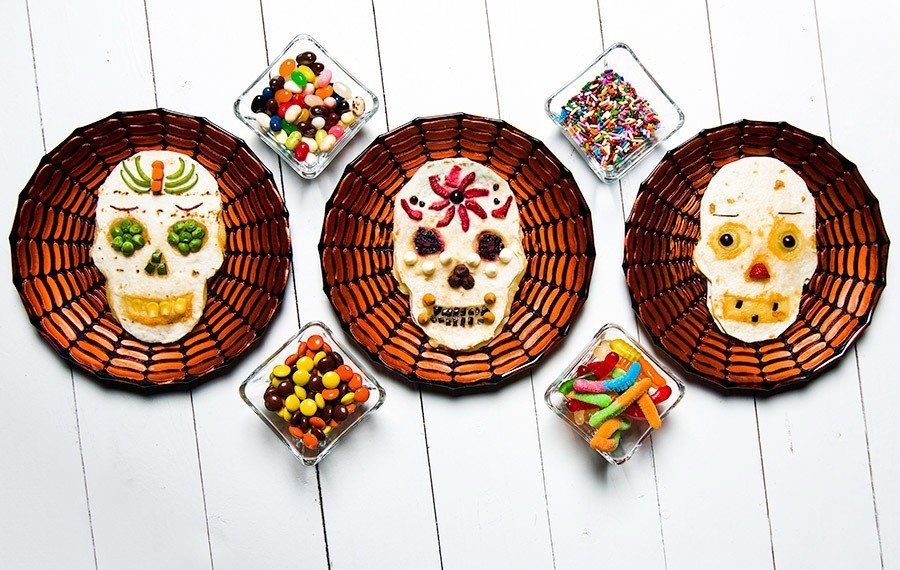 Day of the Dead Skull Quesadilla
by
V & V Supremo Foods, Inc.
Day of the Dead is a Mexican holiday that focuses on remembering loved ones who've passed away. Sugar skulls are traditionally made to symbolize rebirth into the next life. Use your creativity to decorate our cheesy take on the classic sugar skull.


Ingredients
1 Skull stencil - print out template at V&VSUPREMO's YouTube channel

8 6 in. flour tortillas

2 cups Shredded Chihuahua® Brand Quesadilla Cheese from V&V SUPREMO®
6 Steps to complete
1

Start by cutting out the stencil of the skull.

2

On a cutting board, place the stencil on top of the center of one of the tortillas and with a paring knife, cut the skull, eyes, nose, and mouth. Do this step on four tortillas only. On the second batch only cut the skull shape (this will be the bottoms of the quesadillas).

3

Preheat a skillet or griddle for 1 minute over medium-low heat. It's important that the skillet temperature is not too high so that the tortillas do not harden or overcook before the cheese fully melts.

4

Heat 1 bottom and 1 top for 30 seconds, flip tortillas and add ¼ cup of cheese to each tortilla, distribute evenly. Turn the heat to low, and wait until the cheese is half way melted, approximately 45 seconds. Press with a spatula the tortilla with the cut outs, rotate it in a circular motion so that it doesn't stick to the griddle. Hold the bottom part with a spatula and with another spatula, lift the face of the skull and place on top of the bottom half. And cook for 2 minutes, until the cheese has fully melted.

5

Using a spatula, remove the quesadillas from the griddle or skillet to the area where you have the topping to decorate it. Repeat with remaining tortillas.

6

Use your creativity and make your own design with an assortment of candy, fruits, or vegetables. Enjoy!
Comments
WHERE TO BUY
Missing some of the ingredients produced by VV Supremo? Find the nearest store in your area:
Find Store Now!
Store Locator
Great Places You Can Find
Our Products

Find A Store Now!
Available At
Great Places You Can Find
Our Products