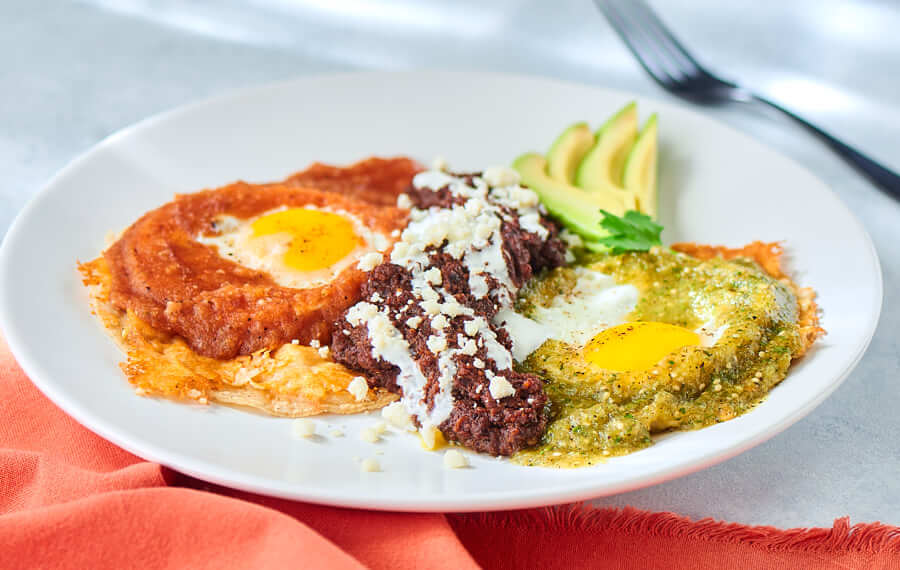 Mexican-Style Eggs with Two Salsas (Huevos Divorciados)
by
V & V Supremo Foods, Inc.
A classic Mexican breakfast, eggs are served on hot corn tortillas with Cotija cheese, then eggs are "separated" by their salsas and refried beans with chorizo. Best breakfast ever!


Ingredients
Red Salsa
2 plum tomatoes, cut in half

1 serrano pepper

1 clove garlic, peeled

1/4 medium white onion

1 tsp. Kosher salt or to taste

1/4 tsp. ground black pepper

1/3 cup water

1/2 tsp. vegetable oil
8 Steps to complete
1

For salsas, place all vegetables for both sauces in a preheated griddle or skillet over medium heat, roast for 10 to 15 minutes, or until charred on all sides.

2

For red salsa, coarsely purée tomatoes, 1 garlic clove, ¼ onion, 1 serrano pepper, water, salt, and pepper in a blender, then transfer to a bowl.

3

Tomatillo salsa, coarsely purée the rest of the roasted vegetables, add cilantro, water, salt, and pepper in the blender. Transfer sauce to a bowl.

4

Fry sauces separately by preheating, ½ teaspoon oil in a small saucepan or pan over medium heat for 1 minute. Pour blended sauces in each pot and simmer 3-4 minutes. Keep sauces hot over low heat.

5

Beans preheat a medium skillet for 1 minute over medium heat. Add chorizo and cook for 4 minutes, crumbling while cooking. Add onion, garlic, and continue to cook for 2 minutes. Mix in refried beans and continue to cook for 2 minutes, or until the beans warmed through. Cover and keep warm until needed.

6

Tortillas preheat a non-stick griddle or skillet for 1 minute over medium heat. Place 2 tablespoons of grated Cotija cheese on the griddle, place 1 tortilla on top of the cheese and cook for 40 seconds, flip the tortilla and heat for 1 minute. Keep tortillas warm and repeat this step for remaining tortillas.

7

Cook eggs, preheat ½ tablespoon oil in a nonstick skillet over moderately low heat until hot. Gently break 2 eggs into a cup, keeping yolks intact, then pour into skillet, season with salt and pepper and cook, covered, for 3-4 minutes, or to the desired doneness. Repeat this step for the remaining ingredients.

8

To plate, place 2 tortillas slightly overlapping in the middle of a plate. Place chorizo and bean mixture in the center of the two tortillas to form a divider. Place one egg on each tortilla, spoon tomatillo salsa over half of the tortilla, and red salsa over the remaining tortilla. Garnish with 2-tablespoon of sour cream and half of the crumbled Queso Fresco. Repeat this step for the 2nd portion. Enjoy!
Comments
Related products
WHERE TO BUY
Missing some of the ingredients produced by VV Supremo? Find the nearest store in your area:
Find Store Now!
Store Locator
Great Places You Can Find
Our Products

Find A Store Now!
Available At
Great Places You Can Find
Our Products