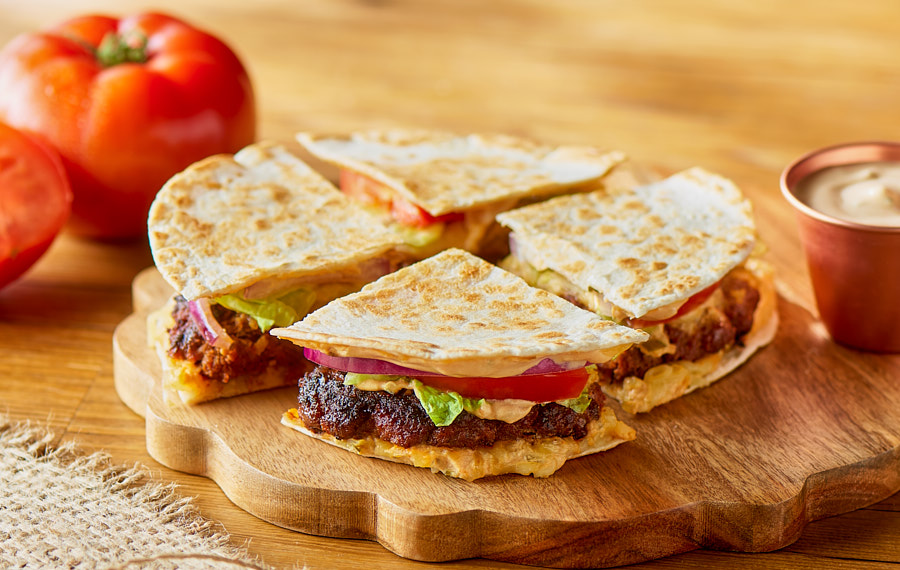 Quesadilla Burger
by
V & V Supremo Foods, Inc.
Quesadilla Burgers are crave-able and easy to share. Perfectly seasoned chorizo and gooey melted Chihuahua® cheese make this quesadilla burger delicious and satisfying.


Ingredients
Sour cream spread:
¾ cup Supremo® Brand Mexican Sour Cream from V&V SUPREMO®

¼ cup ketchup

1 Tbsp yellow mustard

3 Tbsp dill relish
10 Steps to complete
1

Preheat grill on medium-high heat or 400°F.

2

Sour Cream Spread: in a small bowl; combine sour cream, ketchup, mustard, and relish. Mix until all ingredients are fully incorporated, cover, and refrigerate until needed.

3

Hamburger Patties: in a medium bowl; combine ground beef, chorizo, onion, garlic, and salt. Mix until ingredients are fully incorporated. Divide beef mixture into 2 portions.

4

Flatten each portion between 2 sheets of wax paper with the bottom of a plate to make ½ inch thick patties; refrigerate until ready to use.

5

On a gas grill; place patties over direct heat, with the lid closed. Cook 6 to 7 minutes on each side, or until beef reaches an internal temperature of 160° F.

6

Preheat a griddle or skillet for 1 minute over medium-low heat. The temperature on the skillet is important so that the tortillas do not harden or overcook before cheese fully melts.

7

Heat 2 tortillas at a time for 30 seconds, flip tortillas. Evenly top 1st tortilla with 1½ tablespoons sour cream spread, ¼ cup Chihuahua® cheese, cooked hamburger patty, an additional ¼ cup cheese, and cover with 2nd tortilla. Repeat process for 2nd quesadilla burger.

8

Flip quesadillas occasionally until the cheese is melted and tortillas are golden brown, remove from griddle.

9

Open the quesadillas and top with 2 lettuce leaves, 2 tomato slices, and several rings of onion. Repeat the process with remaining ingredients.

10

Cut quesadillas into wedges. Serve with remaining sour cream spread on the side and enjoy!
Comments
WHERE TO BUY
Missing some of the ingredients produced by VV Supremo? Find the nearest store in your area:
Find Store Now!
Store Locator
Great Places You Can Find
Our Products

Find A Store Now!
Available At
Great Places You Can Find
Our Products