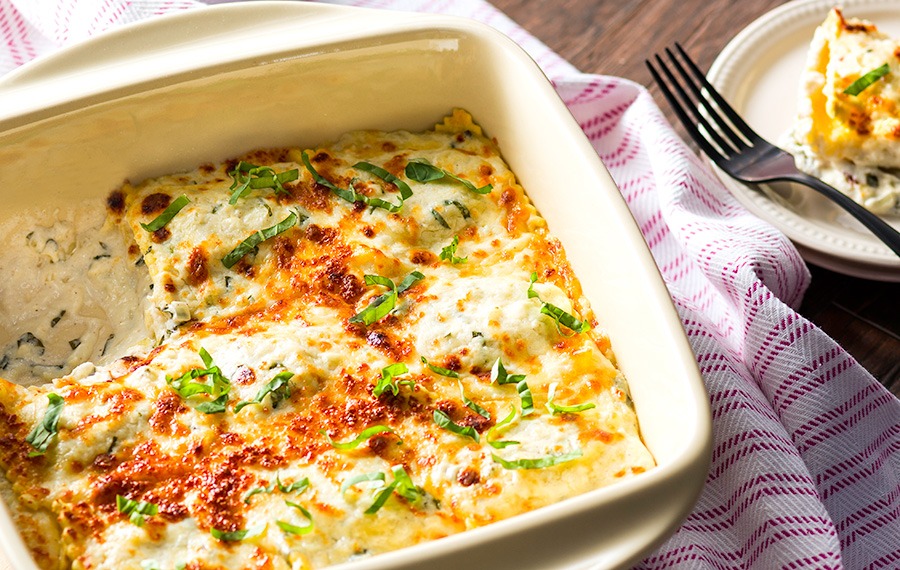 Ravioli in White Wine Sauce
by
V & V Supremo Foods, Inc.
Some recipes deserve to be eaten slowly due to their delicious and robust flavors, Ravioli in White Wine Sauce is one of them! Enjoy!


Ingredients
1 Tbsp. unsalted butter

¼ cup minced onion

1 Tbsp. + 1 tsp. garlic, minced

¼ tsp. white pepper

⅛ tsp. nutmeg

2 Tbsp. white wine

1 (15oz.) Supremo® Brand Mexican Sour Cream from V&V SUPREMO®

½ cup Grated Sierra® Brand Cotija Cheese from V&V SUPREMO® divided

1¼ cup Shredded Chihuahua® Brand Quesadilla Cheese from V&V SUPREMO®

¼ cup + 1 Tbsp. basil, chopped (separated)

18 frozen meat ravioli
6 Steps to complete
1

Pre-heat oven to 400°F.

2

Sauce: Pre-heat a small saucepan for 2 minutes over medium heat. Lower heat to medium-low and add in butter and onions. Sauté onions for 2 minutes. Add in garlic and sauté for 1 minute. Stir in white pepper and nutmeg. Add white wine and reduce until evaporated (1 min).

3

Stir in sour cream, ¼ cup Cotija cheese, and ½ cup Chihuahua® cheese. Bring to a boil, reduce heat to low and simmer sauce for 8 minutes, stirring occasionally. Stir in ¼ cup basil.

4

In an 8"x8" baking dish, pour 1 cup of the sauce on the bottom. Lay 9 ravioli on top of sauce. Sprinkle ½ cup of Chihuahua® cheese on top of the ravioli. Lay the remaining 9 ravioli. Pour the rest of the sauce on top of the ravioli. Top with ¼ cup Chihuahua® cheese and ¼ cup Cotija cheese.

5

Cover baking dish with aluminum foil and bake for 15 minutes. Turn the oven to the broil setting and remove aluminum foil. Broil for 5 minutes or until the cheese becomes golden brown.

6

Let dish cool for 5 minutes before serving. Garnish with 1 Tbsp. of chopped basil. Serve and enjoy!
Comments
Related products
WHERE TO BUY
Missing some of the ingredients produced by VV Supremo? Find the nearest store in your area:
Find Store Now!
Store Locator
Great Places You Can Find
Our Products

Find A Store Now!
Available At
Great Places You Can Find
Our Products