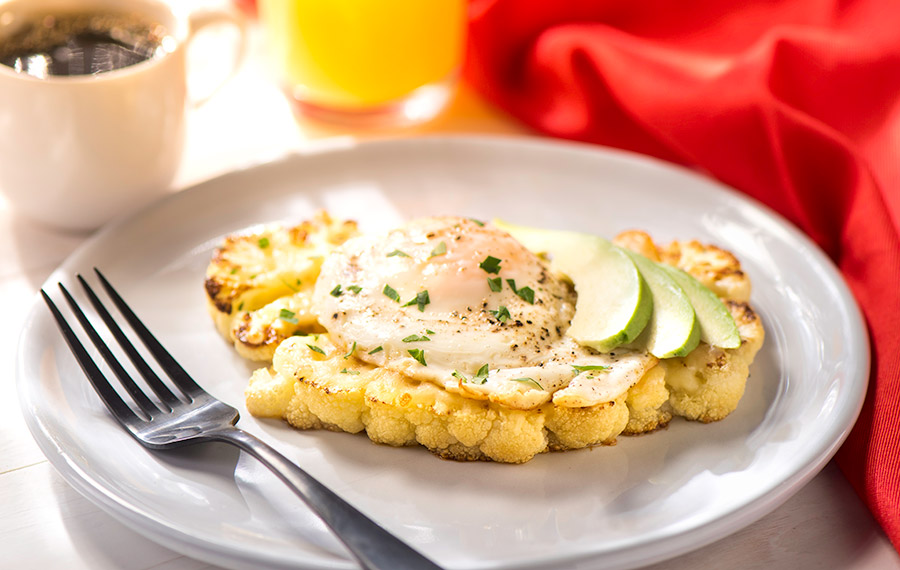 Roasted Cauliflower Steak
by
V & V Supremo Foods, Inc.
Oven-roasted cauliflower steaks are a great way to stay on track with your #keto diet and enjoy a satisfying meal. A crisp-tender and perfectly seasoned cauliflower are covered with delicious melted Chihuahua® Brand Quesadilla Cheese. Add an egg and some sliced avocado to create the perfect #keto combo!
Easy and delicious. Enjoy!


Ingredients
2 medium heads cauliflower

3 Tbsp. avocado oil

½ tsp. kosher salt

½ tsp. black pepper

½ tsp. garlic powder

½ tsp. paprika

2 cups Shredded Chihuahua® Brand Quesadilla Cheese from V&V SUPREMO®
7 Steps to complete
1

Adjust oven rack to the lower third position. Preheat oven to 450° F.

2

In a small bowl; mix together salt, pepper, garlic powder and paprika. Set aside.

3

Remove the outer green leaves from the head of cauliflower and trim the stem. Cut the cauliflower in half lengthwise through the center. Slice into 3/4-inch-thick slices.

4

Place cauliflower steaks on the baking sheet. Brush avocado oil on both sides of each cauliflower steak. Evenly sprinkle the seasoning mixture on both sides of the cauliflower. Tightly cover the baking sheet with foil and bake for 5-6 minutes.

5

Remove the foil from the cauliflower. Gently flip the cauliflower steak and add to each ½ cup Chihuahua® cheese. Place tray back in the oven and continue to cook for 6 minutes or until the cheese is lightly brown and cauliflower fork-tender.

6

Eggs; heat 1½ Tbsp. avocado oil in a nonstick frying pan over medium heat. Fry the eggs, season with salt and pepper and cook for 2–3 minutes, or until cooked to your liking.

7

Place the cauliflower steaks on serving plates and top each with a fried egg. Place a few slices of avocado and garnish with parsley. Enjoy!
Comments
Related products
WHERE TO BUY
Missing some of the ingredients produced by VV Supremo? Find the nearest store in your area:
Find Store Now!
Store Locator
Great Places You Can Find
Our Products

Find A Store Now!
Available At
Great Places You Can Find
Our Products