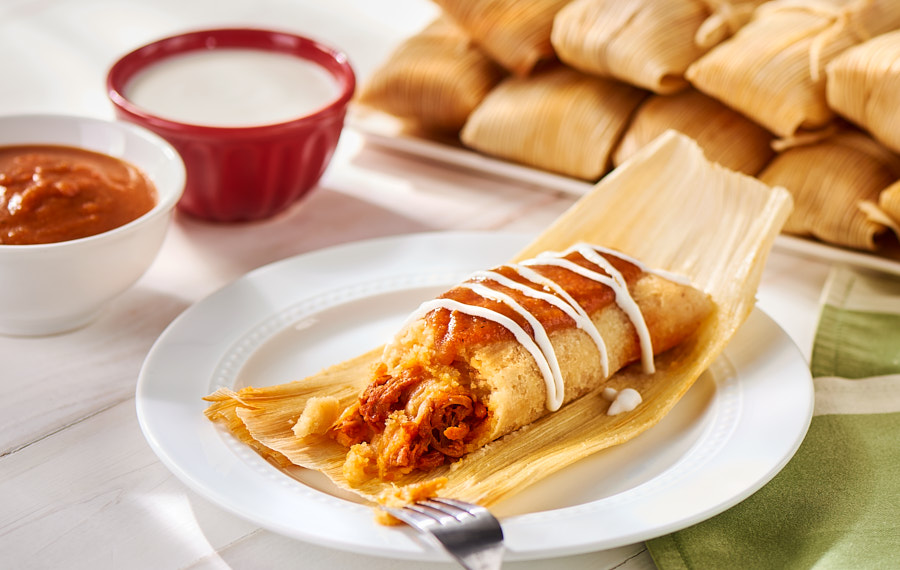 Keto Pork Tamales
by
V & V Supremo Foods, Inc.
Celebrate El Día de la Candelaria without breaking the diet, by making these Keto Pork Tamales, filled with Chihuahua® Cheese and shredded pork in a red sauce. Provecho!


Ingredients
1 small pkg. dried corn husks
11 Steps to complete
1

Cornhusks; Submerge the husks in hot water for 30 minutes to soften them up.

2

Sauce; Bring a pot of water to a boil. Add guajillos peppers, onion, garlic and boil until peppers are soft, about 5-6 minutes. Remove peppers with a slotted spoon, reserving ½ cup cooking water. Transfer boiled vegetables to a blender. Add salt, black pepper, cumin, reserved cooking water. Blend for 30 seconds to 1 minute. Set aside.

3

Filling; Place the meat, onion, garlic and bay leaf in a medium pot. Add enough water to cover the meat. Bring to a boil. Add salt and pepper. Cook over medium heat for 40-50 minutes or until you can easily shred the meat using a fork.

4

Preheat 1 teaspoon avocado oil in a saucepan for 1-2 minutes over medium-low heat. Strain sauce over saucepan using a fine mesh strainer. Simmer sauce for 3-4 minutes or until sauce has thickened slightly. Add the shredded meat into the sauce and continue to cook for 5-8 minutes. Remove from heat. Set aside.

5

Grind the pork skin in a blender or food processor until fine. Set aside.

6

Drain corn husks and place on a work surface. Make about 30 ties from some of the husks by ripping long, thin strips to secure the tamales. Cover with a clean, damp towel. Set aside.

7

Dough; In a standing mixer fitted with the paddle, mix the almond flour with the rest of the dry ingredient including Cotija cheese and ground pork skin. Mix for about 10 seconds at low speed. Add the lard, Sour cream, egg whites and beat at medium-low speed until the dough is fluffy and soft-about 2 minutes; it should have the consistency of thick corn bread batter.

8

To assemble tamales; Spread about ¼ cup of the dough onto the wider side of the corn husk. Add 2 Tablespoons Chihuahua® cheese and 1½ heaping Tablespoons of the meat mixture. Top meat with 2 more Tablespoons of Chihuahua® cheese.

9

Fold sides of husk together, 1 over the other. Fold the bottom of the husk over the seam of the 2 folded sides and secure with strips. Repeat with remaining ingredients.

10

Cook tamales in instant pot – just pour 1½ cups of water into the bottom of your pot and place the steam rack. Line rack with a layer of corn husks. Arrange the tamales standing them upright and follow the manufacturer's instructions.

11

Cook notes: Traditional cooking process for tamales. Fill tamale steamer with water to about half an inch from the bottom of the rack. Arrange the tamales standing them upright. Bring to a boil, then steam over medium heat for one hour or till masa is no longer doughy. Add water as necessary.
Comments
WHERE TO BUY
Missing some of the ingredients produced by VV Supremo? Find the nearest store in your area:
Find Store Now!
Store Locator
Great Places You Can Find
Our Products

Find A Store Now!
Available At
Great Places You Can Find
Our Products