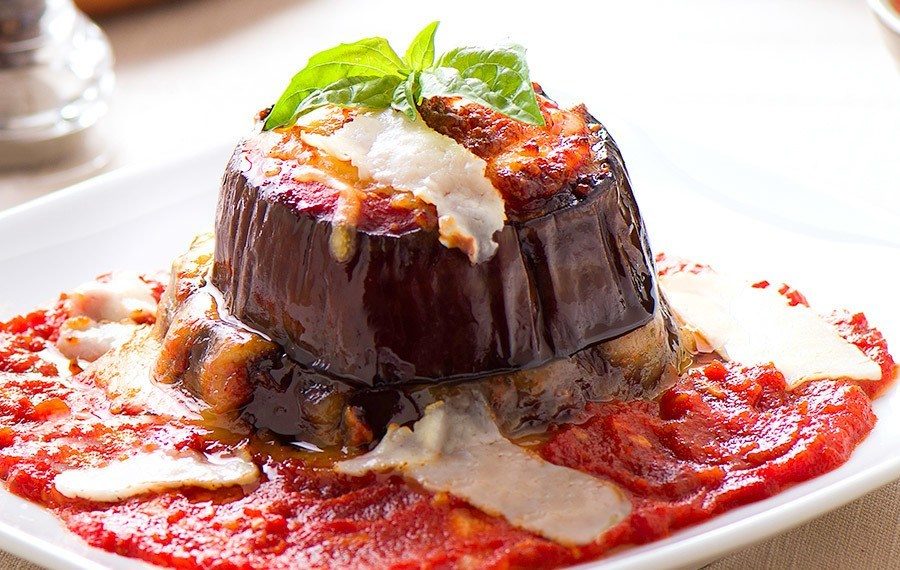 Baked Eggplant
by
V & V Supremo Foods, Inc.
If you like eggplant, this dish is a must try! Full of flavor! Baked Eggplant with Shredded Chihuahua® Brand Quesadilla Cheese. Delish!


Ingredients
Sauce
2 (28 oz.) cans whole peeled tomatoes with basil

1½ Tbsp. olive oil

4 large garlic cloves, minced

¼ tsp. red pepper flakes

2 dried bay leaves

3 fresh basil leaves

1½ tsp Kosher salt

1½ tsp sugar

1/8 tsp fresh ground black pepper
8 Steps to complete
1

Preheat oven to 400°F.

2

Place tomatoes in a blender. Blend to coarse texture.

3

Preheat a medium saucepan over medium heat for 1 minute. Add oil and heat for 1 minute. Add garlic and sauté for 1 minute, stirring frequently. Add red pepper flakes mix and cook for 10 seconds, stirring constantly. Stir in the tomato sauce, bay leaves, basil, salt, sugar and black pepper, mix, reduce heat to low, and simmer for 25 minutes, or until the sauce is reduced to half. Stirring occasionally.

4

Meanwhile, pre-heat a cast iron grill on the rigid grilling side over medium heat for 4 minutes. Trim the stem and bottom ends of each eggplant, and discard. Slice eggplant crosswise into 1 inch slices. (Total of 12 slices). Place the slices on a baking sheet. Brush each slice with olive oil, sprinkle salt and ground black pepper on both sides.

5

Working in batches, grill eggplant until tender and grill marks appear, about 4 minutes on each side. Set aside.

6

Spread 1¾ cups of the sauce over the bottom of 11x15 ovenproof baking dish. Place 6 eggplant slices in a single layer. Top each slice with 1 Tbsp. of sauce, ¼ cup of Shredded Chihuahua® Cheese. Repeat with another slice of eggplant, 1Tbsp. of sauce, 1Tbsp. of Shredded Chihuahua® Cheese and ½ Tbsp. of Grated Sierra® Brand Cotija Cheese.

7

Place eggplant in the oven. Bake for 20 minutes, or until Sierra® Brand Cotija Cheese is lightly brown. Remove from the oven and let rest for 5 minutes before serving.

8

Serve eggplant with sauce. Garnish each portion with 1 basil leaf. Shaved Sierra® Brand Cotija Cheese from V&V Supremo® drizzle olive oil if desired. Delish!
Comments
WHERE TO BUY
Missing some of the ingredients produced by VV Supremo? Find the nearest store in your area:
Find Store Now!
Store Locator
Great Places You Can Find
Our Products

Find A Store Now!
Available At
Great Places You Can Find
Our Products