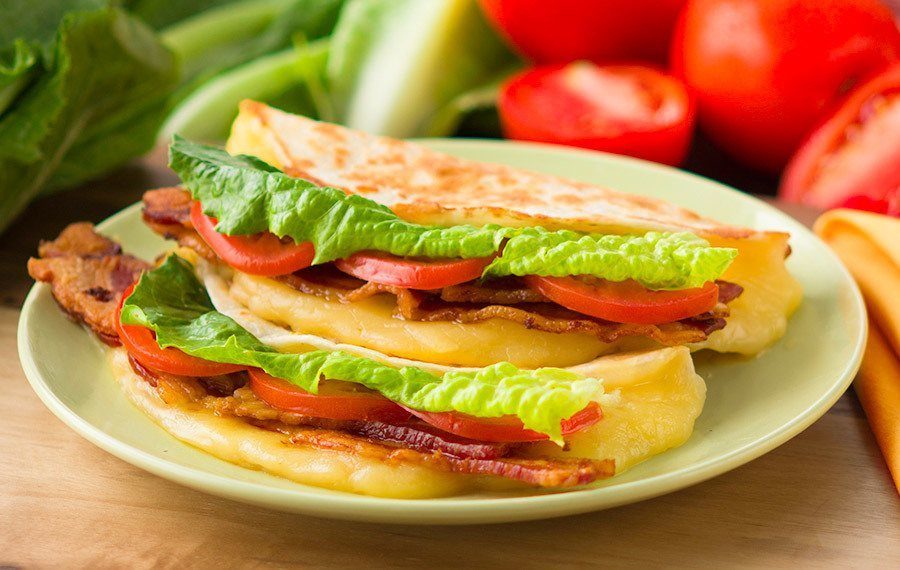 BLT Quesadilla
by
V & V Supremo Foods, Inc.
Combine everyone's favorite classic American sandwich with a warm and tasty quesadilla for a meal that can't be beat! BLT Quesadillas are incredibly easy and delicious, just you wait and taste!


Ingredients
16 slices bacon

2 2/3 Cups Shredded Chihuahua® Brand Quesadilla Cheese from V&V SUPREMO®

8 6-inch flour tortillas

8 leaves romaine hearts, cut into tortilla length

3 medium-sized Roma tomatoes, cut into 8 one quarter of an inch slices
6 Steps to complete
1

Place 8 bacon strips on a baking sheet with rack in a single layer. The bacon can be close together, but don't let it touch or the bacon will stick together during the cooking process. Repeat with the remaining bacon on the second baking sheet.

2

Place the baking sheets in the oven. Turn on the oven to 400°F. Do not preheat the oven. Cook for 18 minutes, or until crispy. The exact baking time will depend on the thickness of the bacon and how crispy you like it.

3

Once the bacon is crispy, carefully remove it from the baking rack and drain on a paper towel-lined plate. Blot off any excess grease with a paper towel. Break the bacon slices in to halves, and set aside.

4

Preheat a skillet or griddle for 1 minute over medium-low heat. It's important that the skillet temperature is not too high, so that the tortillas do not harden or overcook before the cheese fully melts.

5

Heat tortillas for 30 seconds on one side, flip tortillas, add 1/3 cup of Shredded Chihuahua® Brand Quesadilla Cheese from V&V SUPREMO® to each tortilla, distribute evenly. Once the cheese is half way melted, add 2 strips of bacon to the quesadilla and fold in half, cook until quesadillas are golden brown and cheese has fully melted. Flip occasionally with spatula so they don't burn.

6

Remove the quesadillas from the skillet using a spatula. Gently open up the quesadillas and add 1 lettuce leaf and 3 tomato slices to each quesadilla. Close the quesadilla and serve immediately. Repeat with remaining ingredients. Delicious!
Comments
Related products
WHERE TO BUY
Missing some of the ingredients produced by VV Supremo? Find the nearest store in your area:
Find Store Now!
Store Locator
Great Places You Can Find
Our Products

Find A Store Now!
Available At
Great Places You Can Find
Our Products