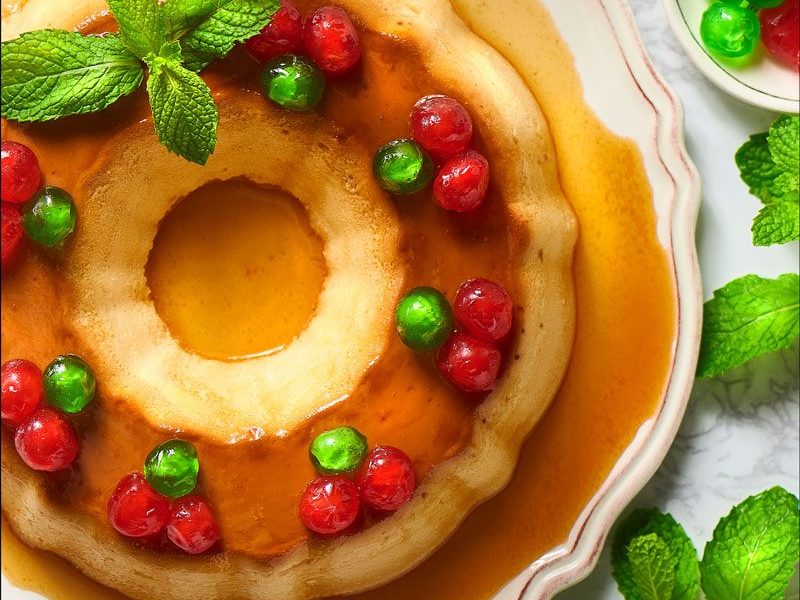 Caramel Cheese Flan
by
V & V Supremo Foods, Inc.
Caramel Cheese Flan is our unique take on traditional flan. The flavor of V&V SUPREMO® Brand Queso Fresco Cheese & Supremo® Brand Mexican Sour Cream make this a delightful dessert that your family will ask for again and again.


Ingredients
½ cup granulated sugar

1 (8 oz.) pkg. V&V SUPREMO® Brand Queso Fresco Cheese, quartered

1 (12 oz.) can evaporated milk

1 (14 oz.) can sweetened condensed milk

½ cup whole milk

3 large eggs

3 egg yolks

1½ Tbsp. vanilla extract

1 cup Supremo® Brand Mexican Sour Cream from V&V SUPREMO®

6 dried candied red cherries, cut in half

6 dried candied green cherries, cut in half

1 large sprig fresh mint
9 Steps to complete
1

Pre-heat oven to 350°F.

2

In a medium sauce pan; melt sugar over medium-low heat for 12 to 14 minutes, stirring occasionally, or until sugar melts and turns golden brown. *Cook's note: melted sugar is very hot and must be handled carefully.

3

Carefully pour melted sugar into a non-stick 10-inch Bundt pan. Tilt and rotate dish to coat bottom with caramel. Set aside until needed.

4

In a food processor; add quartered Queso Fresco Cheese and process for 1 to 2 minutes or until no large pieces remain. Add evaporated milk, sweetened condensed, whole milk, eggs, egg yolks, vanilla extract, and Sour Cream. Process for 2 minutes, scrape sides with a spatula, and process for an additional 2 minutes.

5

Pour mixture into prepared Bundt pan with caramel. Pour hot water into a baking pan that is large enough to fit Bundt pan inside. Place Bundt pan in water, wrap tightly with foil, and make sure water comes halfway up sides of the Bundt pan. Carefully place in oven and bake for 50 to 55 minutes, or until an inserted toothpick comes out clean.

6

Remove flan from water bath. Cool at room temperature for 30 minutes. Refrigerate for a minimum 2 hours, or up to 24 hours before removing flan from Bundt pan.

7

Run a small sharp knife around sides of flan to loosen. Place a serving platter over Bundt pan. Firmly hold platter and Bundt pan together and invert, shaking gently to unmold flan onto platter.

8

Place candied green and red cherries on top by grouping 3 pieces together alternating colors. Garnish Caramel Cheese Custard with mint sprig, serve, and enjoy!

9

Cook's note: place Bundt pan in a large bowl with 2-inches of hot water to loosen Flan and allow it to unmold more easily.
Comments
WHERE TO BUY
Missing some of the ingredients produced by VV Supremo? Find the nearest store in your area:
Find Store Now!
Store Locator
Great Places You Can Find
Our Products

Find A Store Now!
Available At
Great Places You Can Find
Our Products