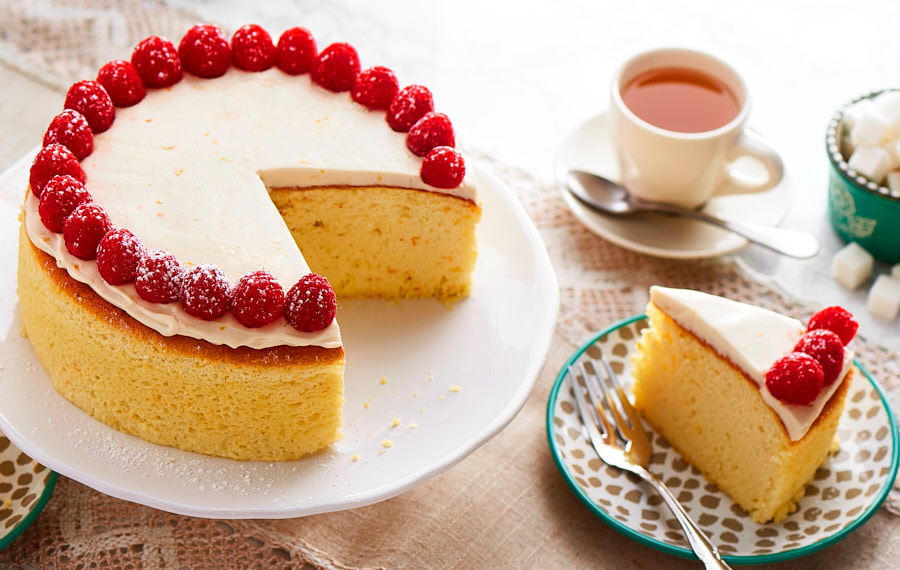 Cheesecake With Honey Orange Cream Sauce
by
V & V Supremo Foods, Inc.
The bright citrus flavor of our Cheesecake with Honey Orange Cream Sauce is delicious. Queso Fresco Cheese and Sour Cream from V&V Supremo® make this cake a fluffy delight.


Ingredients
1 (8 oz.) pkg. V&V SUPREMO® Brand Queso Fresco Cheese

¼ cup whole milk

½ cup Supremo® Brand Mexican Sour Cream from V&V SUPREMO®

½ cup unsalted butter, softened

⅔ cup granulated sugar, divided

1 Tbsp. vanilla extract

2 Tbsp. orange zest

6 whole eggs, yolks and whites separated

½ cup cake flour, sifted

¼ cup cornstarch, sifted

1 tsp. cream of tartar
8 Steps to complete
1

Preheat oven to 300F. Line bottom of an 8-inch x 3-inch round cake pan with parchment.

2

In a food processor; blend Queso Fresco cheese for 2 minutes. Add milk, sour cream, and process for 1 minute. Scrape down sides and pulse for 30 seconds. Transfer mixture to a large bowl.

3

In a small bowl; combine butter and ⅓ cup sugar. Microwave for 45 seconds or until butter is melted. Slowly whisk butter and sugar mixture into cheese mixture. Add vanilla, orange zest, egg yolks, ½ cup cake flour, and ¼ cup cornstarch. Whisk to combine.

4

In a separate bowl; whip egg whites using an electric mixer at high speed for 1 to 2 minutes or until soft peaks form. Add cream of tartar, gradually add ⅓ cup granulated sugar, and whip for 1 to 2 minutes. Gently fold in whipped egg whites, fold in small amounts at a time, into cake batter.

5

Pour batter into the prepared cake pan and place it into a larger high-sided pan filled with ½ inch of hot water. Place in oven and bake for 1 hour and 10 minutes.

6

In a small bowl; combine Rancherito® Sour Cream, orange zest, vanilla, and honey. Whisk until cream is smooth and all ingredients are fully incorporated. Cover and refrigerate.

7

Turn off oven and leave oven door ajar. Let cake sit in the oven for 15 minutes.

8

Remove cake from oven, cool to room temperature, and refrigerate for an hour. Top with Honey Orange Cream. Position Berries around outside edge of the cake and dust berries with confectioner's sugar. Serve and enjoy!!!
Comments
WHERE TO BUY
Missing some of the ingredients produced by VV Supremo? Find the nearest store in your area:
Find Store Now!
Store Locator
Great Places You Can Find
Our Products

Find A Store Now!
Available At
Great Places You Can Find
Our Products