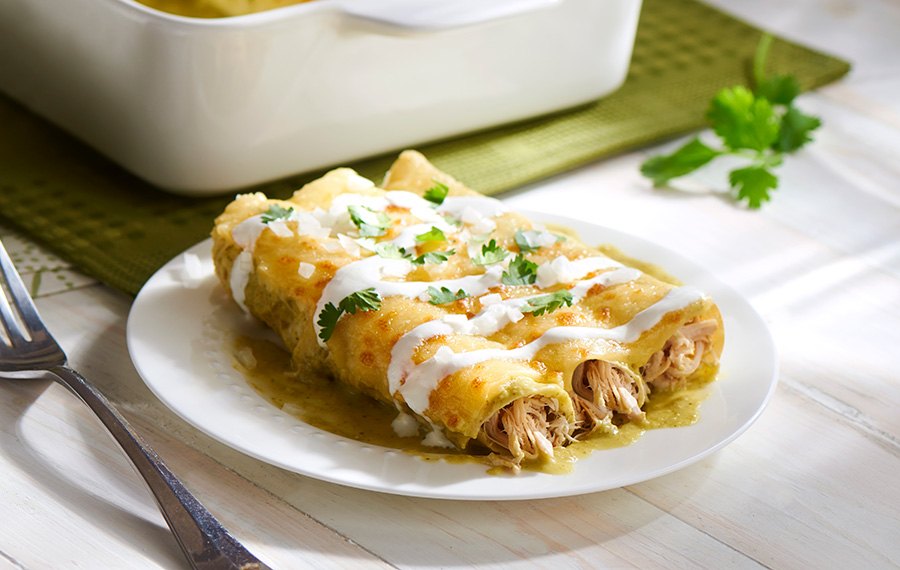 Chicken Enchiladas with Salsa Verde
by
V & V Supremo Foods, Inc.
Chicken Enchiladas with Salsa Verde are a quick recipe for any day of the week! Soft corn tortillas are filled with seasoned rotisserie chicken, doused in zesty home-made salsa verde, and topped with delicious melted Chihuahua® Cheese from V&V Supremo®.


Ingredients
Salsa Verde:
16 tomatillos, husked, rinsed

¼ white onion

4 cloves garlic, peeled

1 jalapeño pepper, stem removed

½ cup unsalted chicken broth

1 medium bunch cilantro

1 tsp. Kosher salt

⅛ tsp. ground black pepper

¾ cup Supremo® Brand Mexican Sour Cream from V&V SUPREMO®

1 tsp. vegetable oil
6 Steps to complete
1

In a medium pot; combine tomatillos, onion, garlic, jalapeño, and cover with water. Bring to a boil over medium-high heat and cook for 5 to 6 minutes or until tomatillos soften. Transfer boiled vegetables to a blender. Add chicken stock, cilantro, salt, pepper, sour cream, and blend 30 seconds to 1 minute or until sauce is smooth.

2

Preheat 1 teaspoon oil in a small saucepan for 1 minute over medium heat, add salsa verde. Bring to a boil over medium-high heat and boil for 2 to 3 minutes to allow flavors to fully combine. Set aside until needed.

3

Preheat 1 tablespoon oil in a medium pan for 1 minute over medium heat. Add ½ cup onion, sauté for 1 minute, add garlic, and sauté for an additional 30 seconds. Stir in shredded chicken, salt, and pepper. Cook for 1 additional minute, remove from heat, and allow chicken to cool for 3 minutes. Mix in ¾ cup Chihuahua® cheese and set aside until needed.

4

Preheat broiler to 500°F or high flame. Microwave tortillas for 1 minute and 30 seconds on high power.

5

Evenly coat a 13-inch x 9-inch baking dish with 1 cup salsa verde. Divide chicken cheese mixture evenly between 12 tortillas. Roll up tightly and place stuffed tortillas into baking dish so that they are packed closely together. Pour remaining salsa verde over enchiladas. Top with remaining cheese and broil for 3 to 5 minutes or until cheese is melted and golden.

6

Serve Chicken Enchiladas with Sour Cream, remaining diced onions, and cilantro. Share and enjoy!
Comments
WHERE TO BUY
Missing some of the ingredients produced by VV Supremo? Find the nearest store in your area:
Find Store Now!
Store Locator
Great Places You Can Find
Our Products

Find A Store Now!
Available At
Great Places You Can Find
Our Products