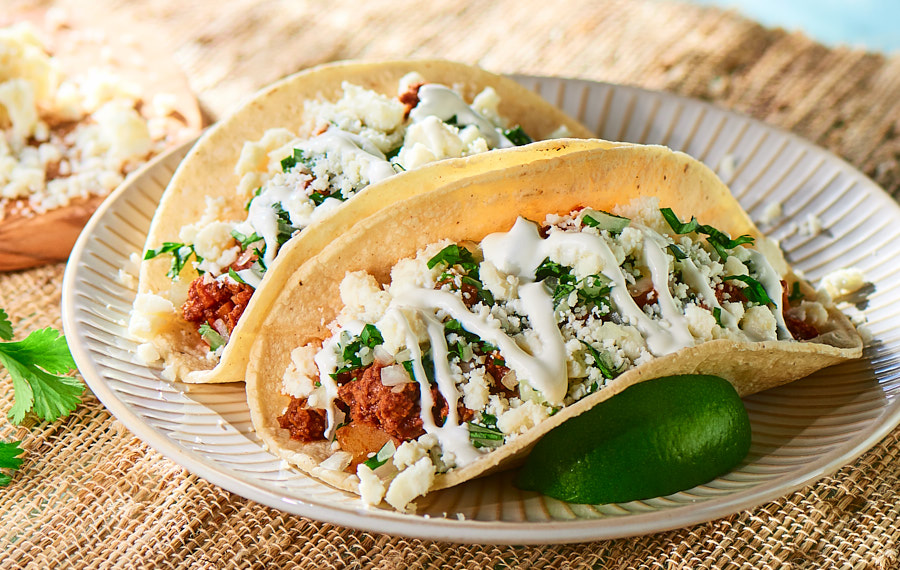 Chorizo and Ground Beef Tacos
by
V & V Supremo Foods, Inc.
Chorizo and Ground Beef Tacos are home-cooking at its best. Supremo® Brand Pork Chorizo adds so much depth and delicious flavor to this satisfying treat, that you will need to make them by the tray!


Ingredients
½ cup V&V SUPREMO® Brand Queso Fresco Cheese, crumbled

⅓ Grated Sierra® Brand Cotija Cheese from V&V SUPREMO®

½ cup cilantro, chopped

½ cup white onion, small dice

1 link from (14 oz.) Pkg. Supremo® Brand Pork Chorizo from V&V SUPREMO®

½ lb. ground beef 80/20

1 cup red potato, small dice

¼ cup white onion, small diced

½ cup carrot, small dice

½ tsp. garlic, chopped

3 Tbsp. tomato paste, canned

½ tsp. Kosher salt

¼ tsp. ground black pepper

1 Tbsp. vegetable oil

8 corn tortillas

½ cup Supremo® Brand Mexican Sour Cream from V&V SUPREMO®
5 Steps to complete
1

In a small bowl; combine Queso Fresco and Cotija Cheese. Mix until well combined and set aside until needed.

2

In a small bowl; mix onion and cilantro together. Cover and refrigerate until needed.

3

Preheat a skillet for 2 minutes on medium heat. Add in chorizo and cook for 2 minutes, crumbling with a spoon while cooking. Mix in ground beef and continue to cook for 2 minutes. Add potatoes, onion, carrot, garlic, tomato paste, salt, and pepper. Reduce heat to low, cover, and simmer for 8 minutes.

4

Preheat a nonstick griddle or comal for 2 minutes over medium low heat. Brush tortillas with oil and heat for 30 seconds on each side.

5

Fill tortillas with ¼ cup Chorizo mixture. Top with 1 tablespoon onion and cilantro mix, 1 tablespoon Cheese mixture, and Sour Cream. Serve and enjoy!
Comments
WHERE TO BUY
Missing some of the ingredients produced by VV Supremo? Find the nearest store in your area:
Find Store Now!
Store Locator
Great Places You Can Find
Our Products

Find A Store Now!
Available At
Great Places You Can Find
Our Products