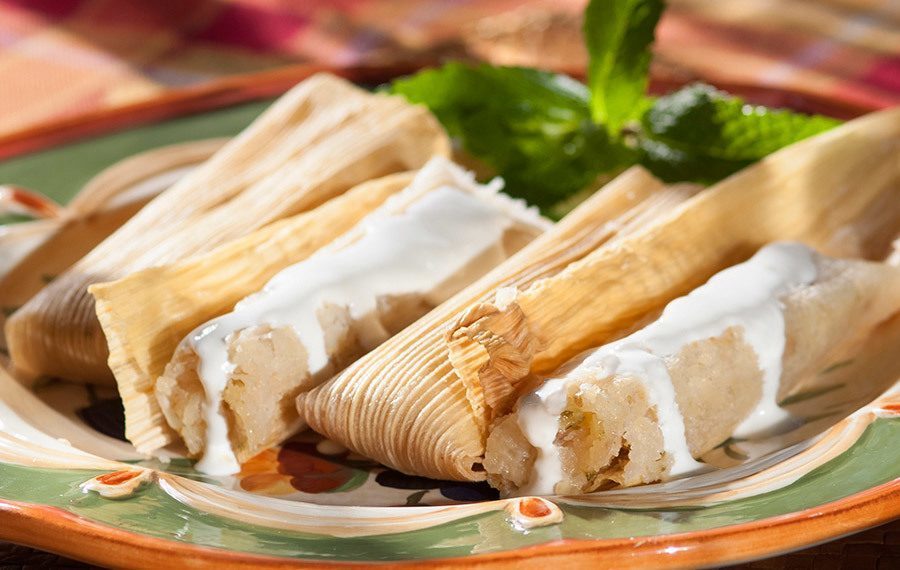 Coconut Tamales
by
V & V Supremo Foods, Inc.
Tamales are a staple at Christmas time in Mexican households and for special occasions. Whether they are savory, spicy, or even sweet, they are ideal for dinner or any night of the week. Enjoy this traditional sweet take on tamales!


Ingredients
1 lb. instant corn masa mix

1 ½ sticks (12 tbsp.) unsalted butter at room temperature

1 Tbsp. baking powder

1 1/2 cups sugar

3 Tbsp. coconut extract

3 cups shredded sweetened coconut

1 cup cream coconut

3 husks from tomatillos boiled with 1/2 cup water, strained (optional)

1 lb. dried husks for tamales

Zest from 6 limes, minced

2 -15 oz. containers Supremo® Brand Mexican Sour Cream from V&V SUPREMO®
8 Steps to complete
1

Preheat oven to 300°F.

2

Place corn husks in a large bowl. Cover with hot water. Let soak for 20 minutes. Remove husks from water and pat dry with paper towels.

3

Spread coconut evenly on baking sheet and bake for 15 minutes (stir coconut every 5 minutes to ensure even toasting).

4

Place masa in large bowl. Add 2 cups warm water. Mix together with your hands for 10 minutes. Set aside.

5

Place butter in large bowl. Cream with a whisk 2 minutes. Incorporate the masa into the butter little by little with your hands. Add baking powder, one cup sour cream, coconut extract, water from tomatillo husk (or ½ cup water) and sugar. Mix well with your hands for 15 minutes.

6

For the filling, mix together toasted coconut, lime zest, 1 cup of coconut cream and one cup of sour cream. Chill in refrigerator for 30 minutes.

7

Choose 24 large corn husks. Place 1 husk coarse side down with the narrow end pointing away from you. Spread 2 Tbsp. of the masa on the wide end in a 2½ by 3 inch rectangle, leaving a ½ inch border at the bottom and both sides. Spoon about ½ Tbsp. or more if desired of filling in the center of the masa. Fold the sides of the husk, overlapping them. Fold the narrow end toward you, over the tamal. Stand the tamal open end up in a large steamer insert. Repeat with remaining husks.

8

Place water in bottom of large steamer to a level of 4 inches, or one inch below the steamer insert. Cover steamer and place over high heat until water boils. Turn heat to medium, and cook tamales for one hour (check water level after 30 minutes, and add water if necessary). Remove from heat. Remove lid and let cool for 15 minutes before serving.
Comments
Related products
WHERE TO BUY
Missing some of the ingredients produced by VV Supremo? Find the nearest store in your area:
Find Store Now!
Store Locator
Great Places You Can Find
Our Products

Find A Store Now!
Available At
Great Places You Can Find
Our Products