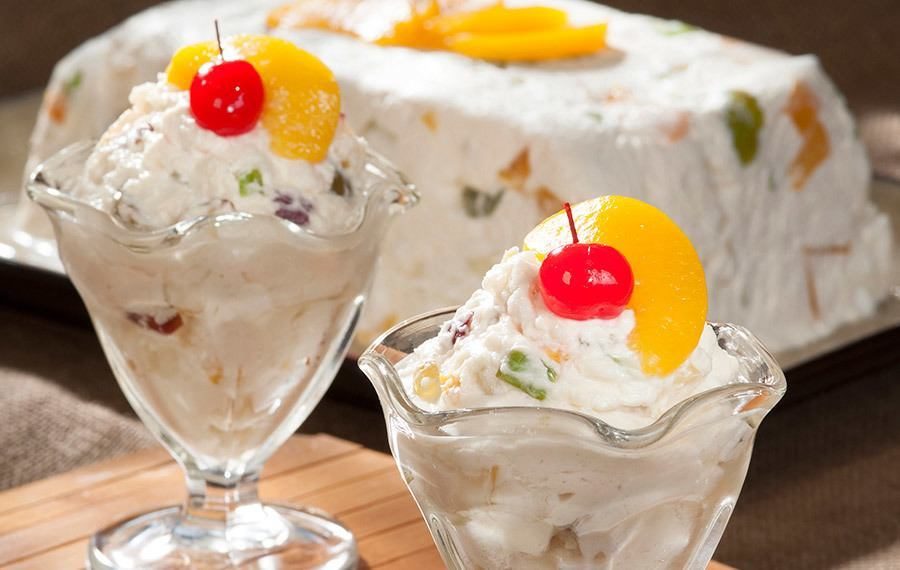 Creamy Fruit Loaf
by
V & V Supremo Foods, Inc.
This Creamy Fruit Loaf raises the bar for its sweet and complex taste that is creamy and delicious!


Ingredients
1 cup red apples, diced into ½ inch

1 cup green apples, diced into ½ inch

1 cup canned peaches, diced

1 cup green grapes, seedless, rinsed and patted dry, cut lengthwise

2 cups small white marshmallows

2 (15 oz.) Rancherito® Brand Mexican Sour Cream from V&V SUPREMO®

1½ cups confectionary sugar

1 Tbsp. vanilla extract
6 Steps to complete
1

Place a non-stick loaf pan into freezer for 2 hours.

2

In a medium bowl combine apples, diced peaches, grapes and marshmallows. Mix well. Set aside.

3

Whip the sour cream in mixer at high speed for 4 minutes or until soft peaks form. Add sugar, vanilla and whip for another minute.

4

Gently fold the fruit mixture in the whipped cream using a spatula.

5

Remove the pan from the freezer. Line with plastic wrap. Pour the fruit mixture in the pan, cover and place in the refrigerator for at least 3 hours.

6

To serve the fruit loaf, place a big plate or tray on top of the fruit loaf. Firmly hold both and carefully invert the fruit loaf onto the plate. Serve and garnish with peach slices on top of each portion. Enjoy!
Comments
Related products
WHERE TO BUY
Missing some of the ingredients produced by VV Supremo? Find the nearest store in your area:
Find Store Now!
Store Locator
Great Places You Can Find
Our Products

Find A Store Now!
Available At
Great Places You Can Find
Our Products