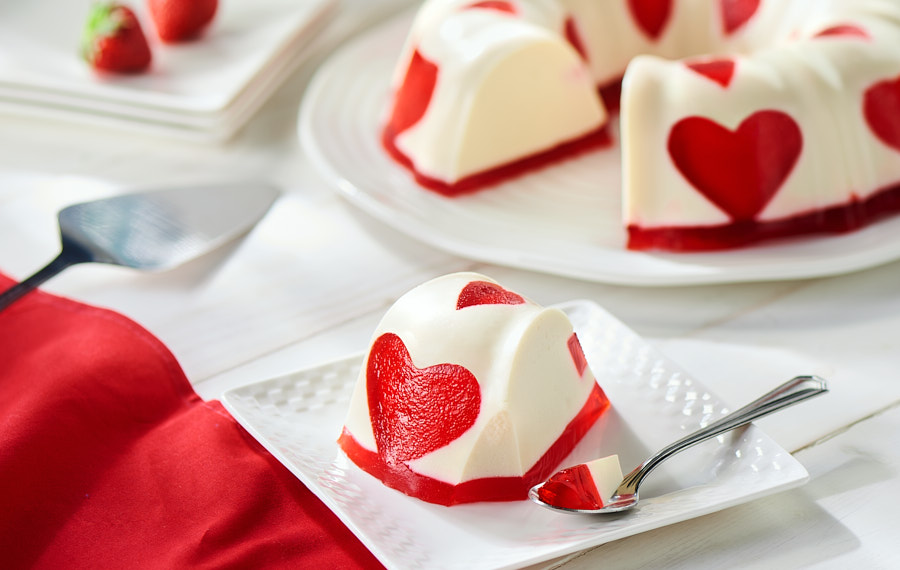 CREAMY STRAWBERRY GELATIN MOLD
by
V & V Supremo Foods, Inc.
Valentine's Day is just around the corner! You might still be looking to whip up a succulent dinner, but just remember to leave room for this amazing and delicious gelatin.


Ingredients
Flavored Gelatin
1 (6 oz.) pkg. strawberry flavored gelatin dessert

2 cups water
10 Steps to complete
1

Gelatin: Dissolve the packet of flavored gelatin into 1 cup boiling water in a medium glass bowl. Once the gelatin powder has dissolved, stir in 1 cup of cold water. Pour gelatin into a 9x13 sheet tray or glass dish. Refrigerate until thickened for a minimum of 1 hour or until the gelatin is set firm.

2

Once set, cut strawberry gelatin with the heart cookie cutters into 8 medium and 15 small hearts. Remove hearts from pan, place onto a plate and refrigerate. Take remaining strawberry gelatin left over from the heart cutouts and place in a bowl. Set aside.

3

In a bowl: Slowly add package of unflavored gelatin to 1 cup of cold water. Allow dissolved unflavored gelatin to bloom. Microwave mixture for 30-40 seconds or until completely dissolved.

4

In a blender: Pour Sour Cream, condensed milk, vanilla and unflavored gelatin, turn blender speed to medium-low and blend for 30 seconds or until all ingredients are fully incorporated.

5

In a Bundt Pan: Arrange 8 small hearts, point-side facing outward, cutouts on the bottom of the Bundt pan at each ridge line. Pour about 2 Tablespoons of the Sour Cream mixture over the hearts in the Bundt pan covering just enough of their edges. Refrigerate for about 3-5 minutes, enough time for the creamy gelatin to set and keep the hearts in place.

6

Remove Bundt Pan from refrigerator. Slowly pour about ¾ cups of the Sour Cream mixture into Bundt Pan. Let it set for 8-10 mins.

7

Arrange 7 small hearts cutouts, point-side up, around the inner wall of Bundt pan evenly spaced. Arrange 8 medium hearts, point-side up, cutouts around the outer wall of Bundt pan. Slowly pour remaining Sour Cream mixture into Bundt pan in a circular motion. Cover mold with plastic and then refrigerate for a half-hour or until firm.

8

Take remaining strawberry flavored gelatin left over from the heart cutouts and microwave for 30-40 seconds or until fully liquified.

9

Remove the gelatin mold from the refrigerator. Pour strawberry gelatin on top of the creamy one. Cover pan with plastic wrap and refrigerate for 4- 5 hours, until completely firm. For best results, refrigerate overnight.

10

To unmold the gelatin, dip the mold in warm (not hot) water up to the rim. Don't let the water come over the rim and into the mold. Keep submerged for about 10-15 seconds. Gently invert creamy gelatin onto a serving platter. Slice, serve and enjoy!
Comments
Related products
WHERE TO BUY
Missing some of the ingredients produced by VV Supremo? Find the nearest store in your area:
Find Store Now!
Store Locator
Great Places You Can Find
Our Products

Find A Store Now!
Available At
Great Places You Can Find
Our Products