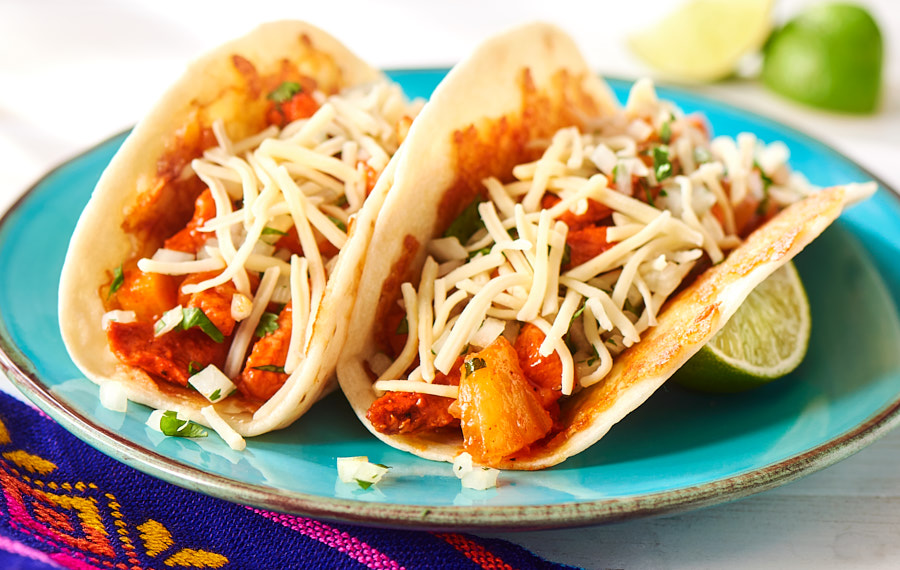 TACOS AL PASTOR WITH CHEESE
by
V & V Supremo Foods, Inc.
Tacos al Pastor with cheese were first prepared when American tourists wanted to eat pastor pork tacos on a flour tortilla with melted cheese while visiting Mexico City. This classic street taco tastes even better with Chihuahua® Cheese from V&V Supremo®. ¡Que Buenos Tacos!


Ingredients
Pastor pork
1 (20 oz.) can pineapple slices, ¼-inch chunks, reserve ½ cup of the juice

1 Tbsp. white vinegar

1½ Tbsp. achiote paste

1½ Tbsp. guajillo chili powder

½ tsp. garlic powder

½ tsp. onion powder

¼ tsp. dried Mexican oregano

⅛ tsp. ground cumin

⅛ tsp. ground cloves

¼ tsp. ground black pepper

1 tsp. Kosher salt

1 lb. pork loin, thin ¼-inch slices, cut-in-half

1½ Tbsp. vegetable oil

½ medium white onion, thin half-moon slices
7 Steps to complete
1

In a bowl; combine pineapple juice, vinegar, achiote paste, chili, garlic powder, onion powder, oregano, cumin, cloves, pepper, salt. Mash achiote paste while mixing with a fork and stir until marinade is smooth with no lumps.

2

Add sliced pork and toss together until completely coated. Wrap and refrigerate for 2 hours or up to a day in advance.

3

Preheat oil in a medium skillet for 2 minutes over medium heat. Add onion and sauté for 1 minute. Add marinated pastor pork and cook for 8 to 10 minutes, stirring occasionally. Add pineapple chunks and continue to cook for 2 minutes or until pork reaches an internal temperature of 160°F. Divide meat mixture into 8 portions and keep warm until needed.

4

In bowl; combine 1¾ cups Chihuahua® Cheese with Cotija Cheese, toss until well mixed, divide into 8 portions, and set aside.

5

Preheat a nonstick griddle or pan for 2 minutes over medium heat. Place 1 portion cheese mixture in a pile. Press cheese down lightly into a round to match the size of the tortillas and cook for 30 seconds to 1 minute. Place warmed tortilla on melted cheese to let it adhere to the tortilla. Repeat this step for remaining tortillas.

6

Top each cheesy tortilla with 1 portion of pastor pork. Garnish tacos with remaining Chihuahua® cheese, diced onion, and cilantro.

7

Serve Gringa Tacos al Pastor with salsa of your choice and lime wedges. Enjoy!
Comments
WHERE TO BUY
Missing some of the ingredients produced by VV Supremo? Find the nearest store in your area:
Find Store Now!
Store Locator
Great Places You Can Find
Our Products

Find A Store Now!
Available At
Great Places You Can Find
Our Products