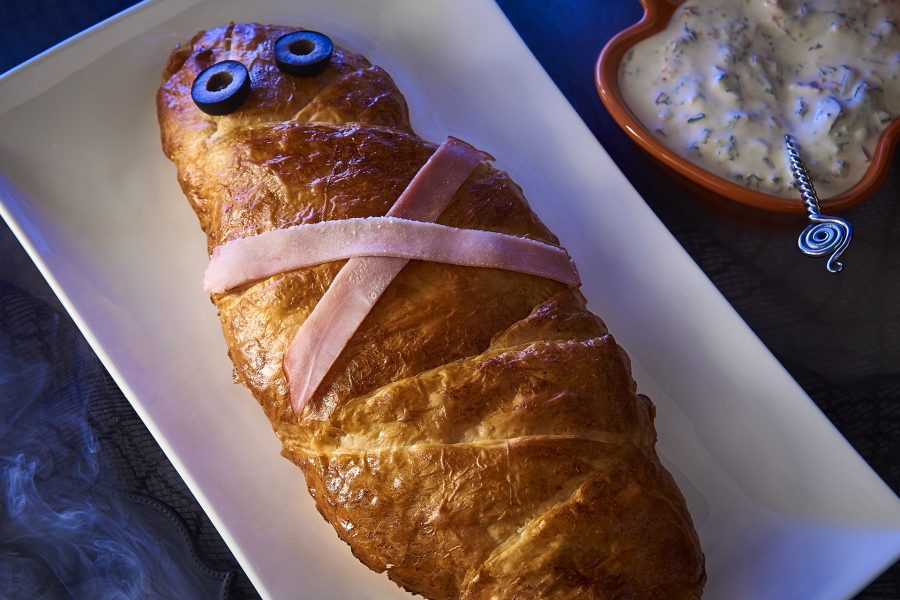 Halloween 3-Cheese Mummy
by
V & V Supremo Foods, Inc.
Our Halloween 3-Cheese Mummy is a deliciously cheesy party appetizer. Baked Chihuahua® Quesadilla Cheese, Queso Fresco, and Sierra® Cotija Cheese are wrapped in buttery phyllo dough bandages and served with Creamy Cherry Pepper Dipping Sauce.


Ingredients
3 Cheese Mummy:
1 (4 oz.) pkg. V&V SUPREMO® Brand Queso Fresco Cheese

1 cup Grated Sierra® Brand Cotija Cheese from V&V SUPREMO®

1 cup Shredded Chihuahua® Brand Quesadilla Cheese from V&V SUPREMO®

1 egg yolk

2 garlic cloves, crushed

2 Tbsp. dry parsley

1 tsp. dry Italian seasoning

1/8 tsp. ground black pepper

4 to 5 medium thick slices black forest ham

6 sheets phyllo dough

6 Tbsp. unsalted butter, melted
Creamy Cherry Pepper Dipping Sauce
9 Steps to complete
1

Preheat oven to 400°F.

2

Cheese filling: in a food processor; break Queso Fresco into four large pieces, add Cotija and Chihuahua® Cheese. Process for 30 seconds to 1 minute or until no large chunks remain. Add egg yolk, garlic, parsley, Italian seasoning, and black pepper. Process for an additional 30 seconds to 1 minute or until cheese mixture is smooth.

3

Assemble: Lay ham slices on a flat surface so they overlap slightly. Place the cheese mixture in the center of the ham and roughly form into a human shape: a round head, wide shoulders, and a tapered body that ends in narrow feet.

4

Wrap the ham around the cheese mixture sealing it in with an additional slice of ham over the top.

5

Place 1 sheet of phyllo on a clean work surface, brush with melted butter, repeat with 2 more sheets, placing each sheet on top of one another.

6

Lay ham-wrapped cheese in the center of the phyllo, wrap the phyllo around the ham mummy, and trim off excess phyllo dough. Brush butter on the outside of the phyllo and then gently press phyllo sheets into the ham mummy.

7

On baking sheet lined with parchment paper, place 1 of the remaining sheets of phyllo sideways across the center of the tray. Brush phyllo sheet with melted butter, repeat with the remaining 2 sheets, placing them on top of one another. Lay the wrapped mummy on top of buttered phyllo sheets.

8

Carefully make 3-inch long cuts in the phyllo starting from the sides and going towards the center to form 1-inch wide strips. Wrap the sliced pieces around the mummy so it looks like bandages. Gently brush the top and sides with remaining melted butter. Bake for 25 to 28 minutes, or until golden brown on the outside and cheese reaches and internal temperature of 165°F.

9

Decorate the mummy with black olives eyes and a ham x across the chest area. Transfer to a cheese board, serve with Cherry Pepper Dipping Sauce, and enjoy!
Comments
WHERE TO BUY
Missing some of the ingredients produced by VV Supremo? Find the nearest store in your area:
Find Store Now!
Store Locator
Great Places You Can Find
Our Products

Find A Store Now!
Available At
Great Places You Can Find
Our Products