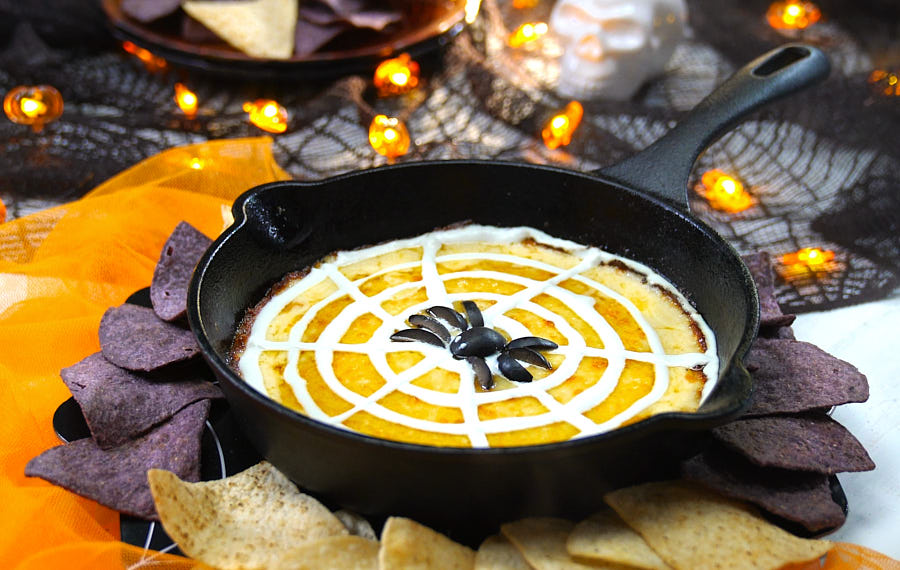 Halloween Cheese Dip
by
V & V Supremo Foods, Inc.
Our Halloween Cheese Dip is the spookiest way to balance the sweet treats of the season. The combination of Chihuahua® Brand Quesadilla Cheese with Supremo® Sour Cream creates a velvety texture with flavors that pair perfectly with the added spices and pickled jalapeños. Impress guests with this crafty and delicious Halloween Cheese Dip. They will be crawling back for more!


Ingredients
1 cup Supremo® Brand Mexican Sour Cream from V&V SUPREMO®, divided

2½ cups Shredded Chihuahua® Brand Quesadilla Cheese from V&V SUPREMO®, divided

⅛ tsp. white pepper and salt

⅛ tsp. chili powder

2 Tbsp. pickled jalapeños, chopped
3 Steps to complete
1

Heat ¾ cup +2 Tbsp, sour cream in a medium cast-iron skillet over medium heat for 2 minutes. Stir Chihuahua® cheese in batches. As you stir in the cheese, decrease heat to medium/low whisking constantly while the cheese melts, insuring you have a creamy blend.

2

Once all the cheese is melted, stir in salt and pepper, chili powder and jalapeños. Top with ½ cup of cheese and place in the oven. Broil for 3-4 minutes or until cheese begins to bubble and turning lightly brown.

3

Spider web; Place remaining sour cream in small resealable food storage bag; seal bag. Cut off tiny corner of bag. Pipe sour cream in 6 concentric circles onto the Cheese. Make 8 more lines from center outward to make spider web design. Serve with Tortilla Chips.
Comments
WHERE TO BUY
Missing some of the ingredients produced by VV Supremo? Find the nearest store in your area:
Find Store Now!
Store Locator
Great Places You Can Find
Our Products

Find A Store Now!
Available At
Great Places You Can Find
Our Products