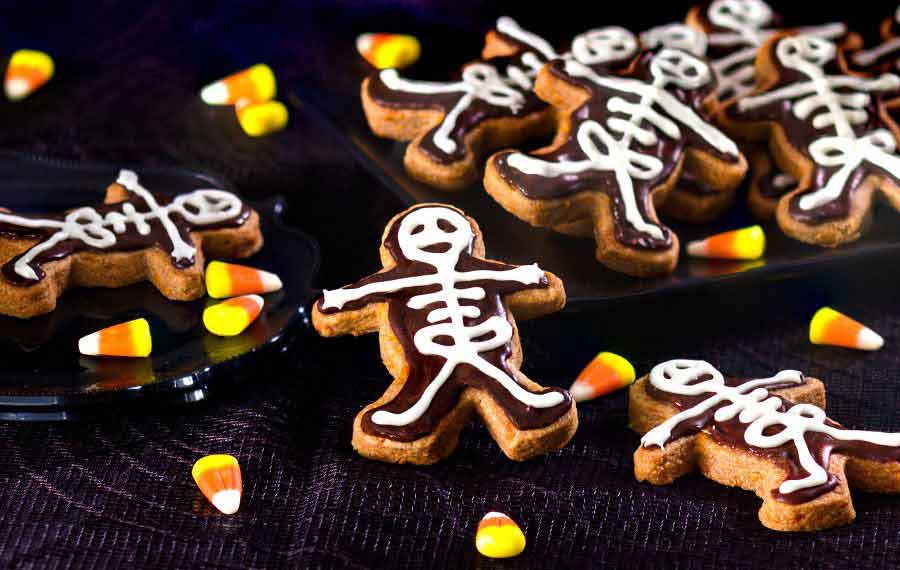 Skeleton Chocolate Cinnamon Cookies Recipe
by
V & V Supremo Foods, Inc.
Skeleton Chocolate Cinnamon Cookies Recipe are a spooky Halloween treat and a delicious ofrenda for Día de los Muertos that are fun to decorate with the whole family. The fantastic flavors of shredded Chihuahua® Quesadilla Cheese and Supremo® Sour Cream from V&V Supremo® will make these tasty treats disappear faster than you can make them!


Ingredients
Cookie Dough:
1 stick unsalted butter, room temperature

½ cup granulated sugar

2 ½ tsp. ground cinnamon

½ Tbsp. vanilla extract

1 cup plus 2 Tbsp. all-purpose flour, sifted, plus extra for dusting, divided

¾ cup Shredded Chihuahua® Brand Quesadilla Cheese from V&V SUPREMO®

small gingerbread man cookie cutter
9 Steps to complete
1

Pre-heat oven to 350°F.

2

Prepare cookie dough: combine butter, sugar, cinnamon, and vanilla in a large mixing bowl. Mix with an electric mixer on medium speed for 1 minute or until all ingredients are fully incorporated. Add flour in 2 batches, stirring with a spatula until fully incorporated before adding more. Gently knead Chihuahua® cheese into cookie dough.

3

Dust a clean work surface with flour. Roll out cinnamon cookie dough to ¼-inch thickness. Cut cookie dough with gingerbread man cookie cutter, and place cookies on a baking tray. Roll trimmed dough into a ball, and repeat this step to cut additional cookies.

4

Bake cookies for 15 to 17 minutes, or until golden. Transfer cookies to a wire rack and allow them to cool at room temperature for a minimum of 20 minutes.

5

Prepare chocolate ganache: in a small microwave-safe bowl; add sour cream, vanilla extract, and chocolate chips. Microwave ingredients for 20 seconds on high power, whisk until smooth, and set aside until needed.

6

Prepare vanilla frosting: in a small bowl; combine sour cream, vanilla extract, and sugar. Whisk ingredients are fully incorporated and set aside until needed.

7

Prepare decoration: evenly spread chocolate ganache across each cookie.

8

Place vanilla frosting in a piping bag with a small round pastry tip and pipe a skull & bones onto chocolate-coated cookies.

9

Let cookies dry uncovered at room temperature so that vanilla frosting and chocolate ganache can harden slightly. Serve and enjoy!
Comments
WHERE TO BUY
Missing some of the ingredients produced by VV Supremo? Find the nearest store in your area:
Find Store Now!
Store Locator
Great Places You Can Find
Our Products

Find A Store Now!
Available At
Great Places You Can Find
Our Products