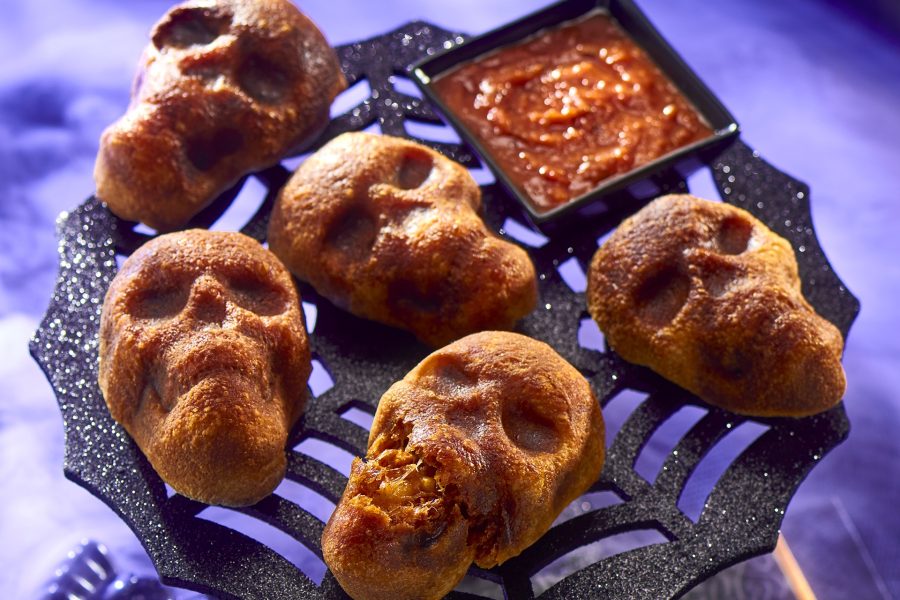 Spooky Halloween Cheesy Skulls
by
V & V Supremo Foods, Inc.
Spooky Halloween Cheesy Skulls are a fast and fun Halloween treat. Crisp pizza dough skulls are filled with zesty Chorizo and gooey melted Chihuahua® Quesadilla Cheese. This is the perfect recipe to prepare with your kids for memories that will last a lifetime.


Ingredients
No-stick cooking spray

Skull-shaped baking pan

1 link from (14 oz) pkg. Supremo® Brand Pork Chorizo from V&V SUPREMO®

1½ cups Shredded Chihuahua® Brand Quesadilla Cheese from V&V SUPREMO®

1 (13.8 oz) tube prepared thin-crust pizza dough

1 cup Marinara sauce (optional)
8 Steps to complete
1

Preheat oven to 375°F. Lightly oil skull-pan with no-stick cooking spray. Set aside.

2

Preheat a medium skillet for 1 minute over medium heat. Remove the plastic casing from chorizo and cook for 7 to 8 minutes, breaking up with a spoon while cooking. Remove from heat and set aside until needed.

3

Transfer cooked chorizo to a large bowl and cool for 5 minutes. Add Shredded Chihuahua® and toss together until thoroughly combined.

4

Cut dough sheet into 6 even portions.

5

Divide chorizo and cheese mixture evenly. Place mixture on the center of the dough portions. Fold dough over on the sides to form a tight packet, and pinch together open ends.

6

Place stuffed dough, seam side up, into oiled skull pan and lightly press dough into skull mold. Refrigerate for 15 minutes to allow dough to settle into skull mold.

7

Bake for 15 to 17 minutes or until the crust is golden brown.

8

Remove skulls from pan, serve with warm marinara sauce for dipping, and enjoy.
Comments
WHERE TO BUY
Missing some of the ingredients produced by VV Supremo? Find the nearest store in your area:
Find Store Now!
Store Locator
Great Places You Can Find
Our Products

Find A Store Now!
Available At
Great Places You Can Find
Our Products