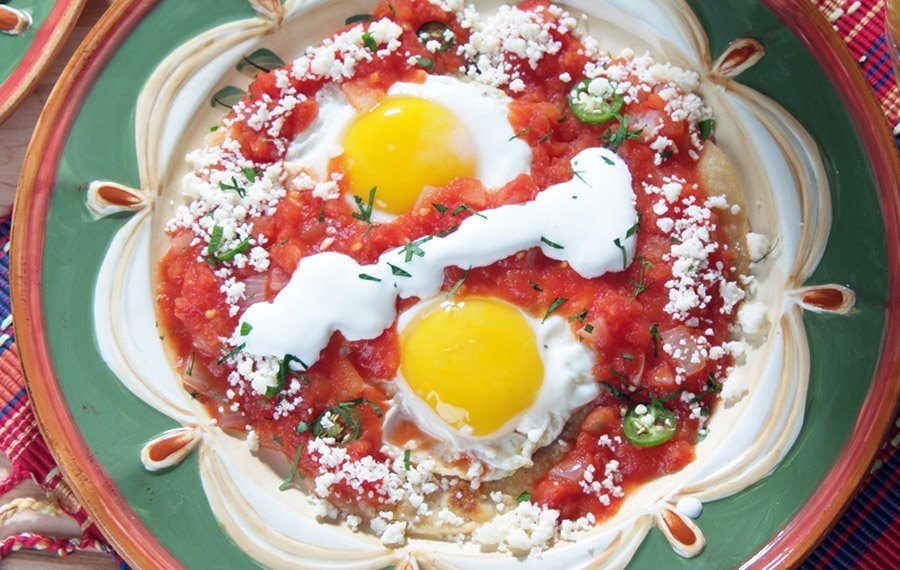 Huevos Rancheros
by
V & V Supremo Foods, Inc.
A classic Mexican breakfast dish, Huevos Rancheros are found throughout Mexico with variations according to region and are increasingly present on menus across the U.S. The following version may be the most familiar, enhanced by our fresh cheese and sour cream.


Ingredients
¾ cup ranchera sauce of your choice

3 Tbsp. corn oil

2 corn tortillas

2 large eggs

¼ cup V&V SUPREMO® Brand Queso Fresco Cheese, crumbled

¼ cup Supremo® Brand Mexican Sour Cream from V&V SUPREMO®

1 Tbsp. cilantro, chopped
4 Steps to complete
1

Heat ranchera sauce and keep warm.

2

Preheat a small non-stick skillet over medium heat. Add 2 Tbsp. of corn oil. When the oil is hot, fry tortillas one at a time until firm, but not crisp. Place tortillas on paper towels to remove excess oil.

3

Wipe the skillet clean. Place over medium heat for 1 minute. Add 1 Tbsp. oil. After 30 seconds crack eggs into skillet. Fry eggs until cooked sunny-side up. (About 3 minutes).

4

Place 2 tortillas on a plate, overlapping them to fit. Top tortillas with 1 egg on each. Ladle sauce over eggs and tortillas leaving just the yolks exposed. Top with Queso Fresco cheese, sour cream, and cilantro. Enjoy!
Comments
WHERE TO BUY
Missing some of the ingredients produced by VV Supremo? Find the nearest store in your area:
Find Store Now!
Store Locator
Great Places You Can Find
Our Products

Find A Store Now!
Available At
Great Places You Can Find
Our Products