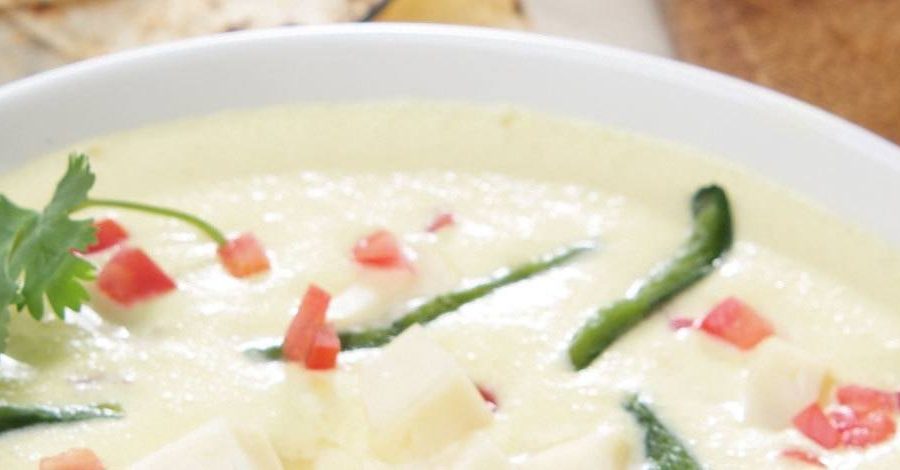 Mexican Corn Chowder
by
V & V Supremo Foods, Inc.
If you love corn, you will love this fresh corn off the cob soup recipe. The unique taste of fresh corn is irresistible in this creamy soup. It is truly delicious, especially when you add poblano pepper and queso fresco.


Ingredients
15 oz. Supremo® Brand Mexican Sour Cream from V&V SUPREMO®

¾ cup Queso Fresco Cheese from V&V SUPREMO®, crumbled

4 ears of sweet corn

2 Tbsp. unsalted butter

1 medium onion, diced

2 cloves garlic, minced

2 cups chicken broth

1 Tbsp. cornstarch

3 poblano peppers, roasted, seeded, and chopped

1 large tomato, seeded and diced

¼ cup cilantro, chopped

salt to taste
8 Steps to complete
1

Remove husk from corn and clean the silk from corn. Hold cob in a vertical position with the flat part resting on the cutting board and the tip pointing up. Remove kernels with vertical cuts.

2

Place a saucepan over medium heat for 1 minute. Add butter, and let melt. Add onion and cook for 3 minutes. Add garlic and cook for 1 minute.

3

In a blender, place ½ cup of cold water, cornstarch, corn and onion mixture. Blend well.

4

Set a saucepan over medium heat. Add corn puree and chicken broth. Cook for 15 minutes, stirring frequently.

5

Place the mixture in the blender. Remove centerpiece from lid, cover lid with dishtowel to avoid pressure from heat. Blend for 1 minute.

6

Strain the mixture and place back into the saucepan. Place saucepan over medium heat. Cook soup for 5 minutes, stirring.

7

Add the sour cream, poblano peppers and tomatoes. Simmer for 5 more minutes. Add salt to taste.

8

Serve and garnish with cheese and cilantro. Enjoy!
Comments
WHERE TO BUY
Missing some of the ingredients produced by VV Supremo? Find the nearest store in your area:
Find Store Now!
Store Locator
Great Places You Can Find
Our Products

Find A Store Now!
Available At
Great Places You Can Find
Our Products