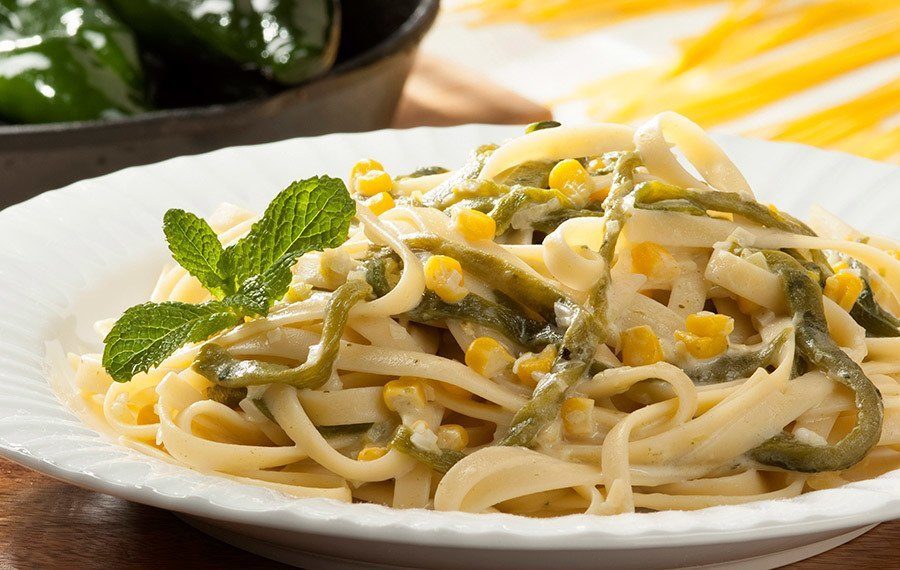 Pasta Poblana
by
V & V Supremo Foods, Inc.
Prepare this creamy pasta with the robust flavor of roasted poblano peppers. Here is a fusion of flavors that your family and friends won't be able to resist.


Ingredients
½ (16 oz.) pkg. linguine

2 bay leaves

3 Tbsp olive oil

3 poblano peppers, roasted, peeled and deveined, medium sliced

3 garlic cloves, minced

2 cups frozen corn kernels, thawed

2 tsp. salt or to taste

1 Tbsp. unsalted butter

1 cup leeks, finely chopped

1 cup Supremo® Brand Mexican Sour Cream from V&V SUPREMO®

1 (7 06 oz.) pkg. Shredded Chihuahua® Brand Quesadilla Cheese from V&V SUPREMO®

1 cup chicken broth
4 Steps to complete
1

Cook pasta according to package directions. Place 1 teaspoon of salt and 2 bay leaves in the cooking water. Drain and set aside.

2

Preheat a skillet over medium heat, add a tablespoon of olive oil and sauté garlic, poblano peppers, and corn. Add 1 teaspoon of salt and mix well. Cook for five minutes. Set aside.

3

In a pan over medium heat add two tablespoons of oil, butter, and sauté the chopped leeks for two minutes. Whisk in sour cream. Add cheese and whisk until the cheese is completely melted. Add chicken broth and bring to a boil. Add the pepper mixture and stir.

4

Add the pasta, and incorporate with sauce. Cook for 1 minute. Serve and enjoy!
Comments
WHERE TO BUY
Missing some of the ingredients produced by VV Supremo? Find the nearest store in your area:
Find Store Now!
Store Locator
Great Places You Can Find
Our Products

Find A Store Now!
Available At
Great Places You Can Find
Our Products