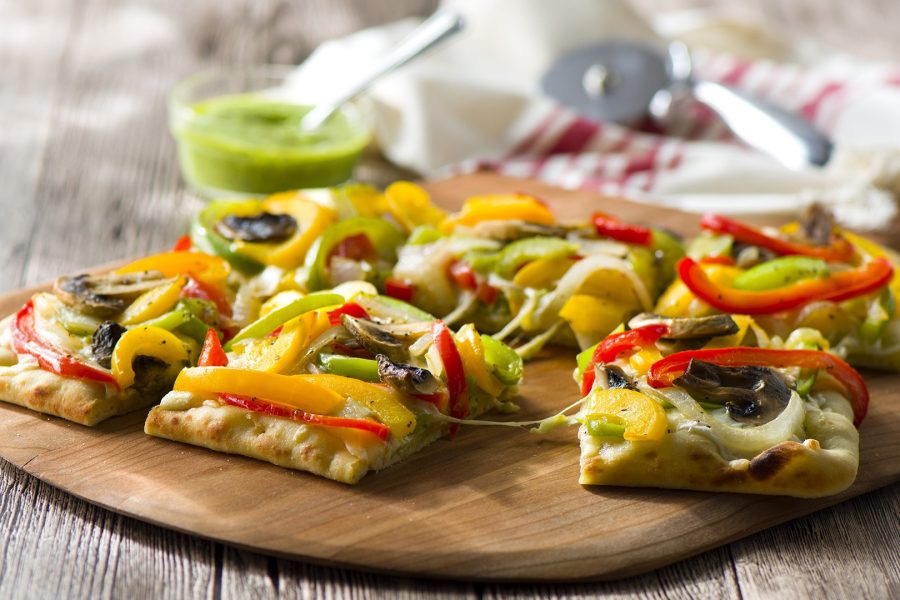 Pesto Veggie Pizza
by
V & V Supremo Foods, Inc.
The best pizza is homemade. This Pesto Veggie Pizza recipe is quick, easy and full of flavor!


Ingredients
1½ Tbsp. olive oil, reserve ½ Tbsp. for pizza crust

½ medium white onion, thinly sliced

½ bell green pepper, sliced lengthwise into strips

½ bell red pepper, sliced lengthwise into strips

½ bell yellow pepper, sliced lengthwise into strips

1 cup Portobello mushrooms, sliced

¼ tsp. Kosher salt

¼ tsp. ground black pepper

6 Tbsp. V&V SUPREMO® pesto recipe

1 10x10 thin pizza crust, pre-made

1- 7.06 oz. pkg. Shredded Mexican 2 Cheese Blend from V&V SUPREMO®
3 Steps to complete
1

Preheat oven to 350°F or follow instructions according to pizza crust package that you are going to use.

2

Preheat a skillet over medium heat for 1 minute; add olive oil, heat for 1 more minute, add onion and cook for 1 minute, add peppers and cook for 2 minutes, add mushrooms, season with salt, black pepper and continue to cook for 1 minute. Remove from heat. Set aside.

3

Spread pesto sauce over the pizza crust. Leave about ½ inch of space on the edges. Brush ½ Tbsp. of olive oil on the edges; distribute the cheese over the sauce. Scatter the vegetables over the cheese and bake for 10 minutes. Serve and enjoy!
Comments
Related products
WHERE TO BUY
Missing some of the ingredients produced by VV Supremo? Find the nearest store in your area:
Find Store Now!
Store Locator
Great Places You Can Find
Our Products

Find A Store Now!
Available At
Great Places You Can Find
Our Products